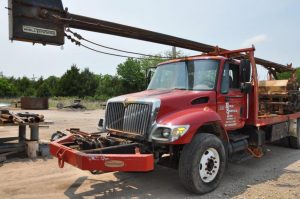 In 1978 we delivered our first Direct Drive Hydraulic Swab Machine. It took us until 1988 to deliver dependable machines that offered everything we said they would. If anyone was ever unsatisfied, we would buy them back. We never bought any back – Most of the early hydraulic machines are still working today.
Tiger General's passion is to build well engineered, top quality Swab Master Machines, Premium Winch Master Winch trucks, Double Drum Work over rigs, and Vacuum trucks. Our products are field tested to work hard and live a long productive life. These products are backed up with rock solid after sales support.
Tiger General Delivers the Best Value.
Tiger General's Swab Master Machines are consider the number 1 machine in the world. We use all premium components. Our master technicians know how to build it right. Every machine is personally inspect to make sure everything is the way you want it.
Make more profit with the Swab Master Machines because they are fast, powerful and easy
to operate. Our Exclusive "Tiger Vision" and "Tiger Vision with Logging" delivers more information that helps your operators get the maximum fluid for each run. This system has been steadily improved for over the last 14 years.
Relentless drive for perfection
We all have trouble getting surfaces perfectly clean. If paint doesn't stick in one spot, rust begins and progresses like a Cancer. Today we have added the option for "Tiger Hyde" – an encapsulated system, with 40-80 mill. Thickness. With a lifespan of 10 -20 years, Tiger Hyde takes far more abuse from shape blows. If there is a spot that doesn't stick, it's not a problem because it's all encapsulated and cross-linked together.
We have upgraded the crown sheave with covered housing. The crown sheave bearings have been dramatically improved with sealed spherical roller Bearings (2) rated at 50,900# static load rating each. Grease only every prox 500 hours  The mast incorporates an Easy Mast tilt system for easy Mast to well head alignment.
Swab Master Machines improvements
All Over Paint.

We build your machine, then disassemble all, Sandblast all components all over, then paint all over.   

Easier Maintenance.

We assemble with Never Seeze for easier maintenance. We use stainless bolts wherever we can.

Chrome Shaft Standard.

The Tiger General auto spooling device tubing has chrome shaft standard. The spooling sheave uses CDL 958 Aluminum Bronze for longer life over brass.  

Flushing valve system.

Swab Master plumbing systems have a special flushing valve system to filter and cool the hydraulic oil, even while idling. We use Shell Tellus T Premium Hydraulic oil, an Absolute filtering system, and 1-2 Trips through the filter to filter to 10 micron.  

Hydraulic Tubing.

Swab Master Machines use hydraulic tubing with JIC and 4-Bolt flange fittings to prevent leaks.  

Prevent Corrosion.

The Hydraulic tubing clamp areas are coated with marine grade Never Seeze to help prevent corrosion under the clamps.

U Shape.

New reel drawworks frame is one piece formed "U" with huge 3 15/16" spherical bearings on each end.

Front of the truck engine.

We drive our Sunstrand hydraulic pumps from the front of the truck engine. The pumps are protected with heavy duty oil field bumper. The swept back bumper design with tow flap and allow for shorter turns.
For those who are looking to procure new Swab Master Machines, Tiger General, LLC has the right machines you need. Check out our educational videos and contact Tiger General with any questions, comments, or complaints. We want to make sure you get exactly what you need to make more money.