Dump Trucks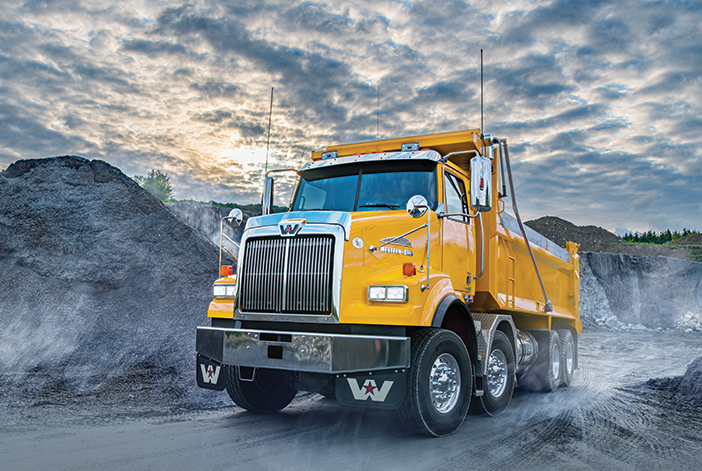 Do You Need a Strong, Yet Light Weight Dump Body?
Beau-Roc "Diamond Line" bodies are the strongest and lightest steel dump bodies in the industry.
DL- The Ultimate Solution For Weight Sensitive Versatile Work.
The unique crossmember – less design with wide main frame, formed diamond shaped sides
And tailgate deliver maximum strength without all the wasted dead weight other use.
You get a bullet proof body that is very close to the weight of aluminum bodies. You can get a strong light Beau-Roc dump for far less money than aluminum, plus gain 4 times the strength
All bodies are tapered, (wider at rear) to allow fast easy dumping of even those sticky dirt loads. With the AR 450 steel DH bodies, huge chunks of broken concrete can be loaded and dumped without structural damage to your body.
We offer hi-ten steel @ 50,000 psi, plus super strong AR 450 demo body steels to 215,000 psi. These bodies are field proven to work hard and live long productive lives.
Read the Ten Commandments of Dump Trucking.
---
| | DHT | DL | DH |
| --- | --- | --- | --- |
| | | | |
| SIDES | 1/8″ – AR450 | 4 MM (5/32″) – AR450 | 4.5 MM (3/16″) – AR450 |
| SIDE POSTS | NONE | NONE | NONE |
| FRONT | 3/16″ – 44W | 1/8″ – AR450 | 4.5 MM (3/16″) – AR450 |
| TAILGATE | 1/4″ – S107 | 4.5 MM (3/16″)- AR450 | 5.8 MM (1/4″) – AR450 |
| FLOOR | 1/4″ – S107 | 4.5 MM (3/16″) – AR450 | 5.8 MM (1/4″) – AR450 |
| BUMPER | 1/4″ – 44W | 1/4″ – 44W | 1/4″ – 44W |
| SILLS | 1/4″ – 44W | 3/16″ – DOX250 | 3/16″ – DOX250 |
| REAR POSTS | 3/16″ – 44W | 3/16″ – 44W | 3/16″ – 44W |
| TAILGATE POSTS | 3/16″ – 44W | 3/16″ – 44W | 3/16″ – 44W |
| BODY WEIGHT | 4,595 LBS – Based on a 17′ x 48″x60″ | 4,054 LBS – Based on a 17′ x 48″ x 60″ | 4,858 LBS – Based on a 17′ x 48″ x 60″ |
| *Standard Body Lengths | 13′ to 21′ | 13′ to 21′ | 13′ to 21′ |
| *Standard Side Heights | 42″,48″,54″ | 42″,48″,54″ | 42″,48″,54″ |
| Standard Tailgate Heights | 48″,54″,60″ | 48″,54″,60″ | 48″,54″,60″ |
| Standard Hoist System | Front Mount Telescopic | Front Mount Telescopic | Front Mount Telescopic |