SideStar2 Lighweight Side Dump
The Side Dump with Clement Innovation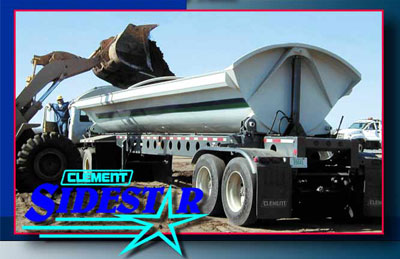 America's most exciting new hauling option!
The 39-foot SideStar is Clement's rugged, efficient new hauling system that discharges its load to either side of the trailer. SideStar is not just another side dump. It features all of the innovatiOn and quality construction that made Clement "America's Leader".
Download the Brochure [PDF]
Specifications
Chasis length
: 39 feet
34-foot inside body length
35′-8″ overall trailer length
40-inch sides for 24-cubic yard capacity
Easy access to hydraulic lines: Hydraulic lines are routed on top of the frame's cross members and secured with a shock absorbent clamp.
Air lines and electrical harness are routed with the hydraulic lines for the same easy access and maintenance support.
Landing gear: Stiff legs
Suspension: Hutch three-leaf
Removable center tarp support with rounded anti-snag surfaces
Frame design includes structure for mounting push blocks or pintle hook.
ABS braking system: WABCO 2s1m
Cylinders: two (2) five-inch, double-acting dump cylinders with advanced seals and flow divide to cylinders
Wheels: (8) 8.25 x 24.5, hub-piloted
Tires: (8) Bridgestone 11R 24.5 radials
Fenders: Steel on rear tandem
*Optional: Air-assist locking system, 6 inch hydraulic cylinders, Wide selection of suspension groups.