Two-Box Steel Roll Off Trailer
Two-box Steel Roll-Off Trailer
Clement Advanced Engineering Offers Choices Not Available from Others …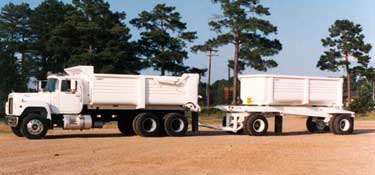 Clement Industries, ever mindful of the needs of the professional hauler, recognized back in 1987 that the industry was going to require the ability to carry two roll-off containers at the same time. The distance from pick-up to landfill was increasing daily with no relief in sight. Recycling was on the horizon and with it, there was a recognizable need for transporting two containers. In the hazardous field, with hauling distance in the area of hundreds, or even thousands of miles, the two-box trailer became inevitable. Clement was also aware that although hauling two boxes with the same truck was desirable, a semi-trailer was just one of several ways to accomplish this task. Pup trailers pulled behind truck mounted roll-offs was an option, therefore, various types of roll-off pups were developed.


Photo One: Starting with an empty trailer, the front container is loaded using a 40,000 lb. winch. (Optionally, at the expense of payload, a two cylinder reeving system is available.) Photo two: The container is then pulled to the front with a hydraulically powered heavy-duty conveyor chain. Photo three: When dumping and unloading, the procedure is reversed.
---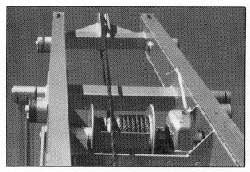 The Clement roll-off features a 40,000 lb. grooved drum winch with cable guide to assure maximum power-to-weight ratio in loading extra-heavy boxes. As an option, the two-cylinder reeving system is available.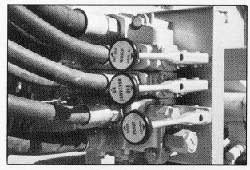 Operation is simplified by virtue of a three lever valve controlling : number one: the rear winch, number two: the rear hoist cylinders, and number three: the front conveyor chain.