Frametype Steel Roll Off Pup Trailer
Frametype steel roll-off pup trailer
Double your productivity and flexiability with a roll-off pup trailer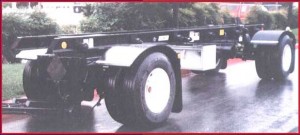 Now may be just the time to increase your productivity by pulling a pup behind your roll-off truck! After all, the major cost has already been committed: the truck and equipment; the truck operating costs including fuel and driver; and of course insurance. With a minimum increase in fixed cost, the productivity is for all practical terms …DOUBLED. The addition of a Clement Pup to most all roll-off trucks qualifies the total rig for a legal 80,000 lb. gross in nearly every area in the country. Assume a legal payload of approximately 23,000 lb. (container and product) on the truck, the addition of the pup would permit an additional legal payload of 23,000 lb. or an INCREASE IN PRODUCTIVITY OF APPROXIMATELY 100%. The same percentage increase would probably hold true if you were simply counting containers, however, as the hauling distance stretches out —PROFITABILITY INCREASES WITH EVERY MILE.
Ready to stand the test of performance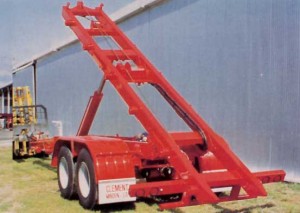 Powered by the truck's hydraulics, the rugged Clement trailer is built to perform and live in the harsh environment of the waste industry. Clement's 30-years experience in building pup trailers and roll-off semi-trailers was combined with CAD equipment to assure that the new pup would be ready to stand the test of performance.
---

SPECIFICATIONS
FRAMETYPE STEEL ROLL-OFF PUP TRAILERChassis:
Frame: 8 x 4-inch tube reinforced with 3/4 x 4-inch top and bottom strap – 80,000 P.S.I.
Suspension: Transpro, 3-Leaf, 4- Spring, 44,000#
Axels: 2) 22,500# 5-inch round
Wheels: 8.25 x 24.5 Disc
Paint: Enamel, sand blasted
Brakes: 16-1/2 x 7-inch cast drum
Axle Spacing: 49-inches
Lights: 12-volt sealed beam
Wiring: Sealed Modular Harness
Fenders: Full Rear Tandem Steel
Flaps: Anti sail plastic
Drawbar: Three cord flex mount
Controls: Front of trailer
Loading System:
Winch: Model: Tulsa H24
Drum: Grooved 9-inch diameter
Cable: 3/4-inch
Cable Packer: Standard
Motor: Charlynn 2000 Series 29 cubic inch
Line Pull: 26,000# @2000 PSI
Sheave:10-inchFrame:
Tilt Frame
Type: Outside Roller
Rollers: 5-inch O.D. w/bushings
Frame: 8 x 4-inch tube reinforced
Top of Roller to Top Rail: 2-1/2-inches Dump Angle: 45 degrees
Common Options:
1. Inside/Outside Rollers
2. Tire Carrier
3. Extra Stops
4. Radial Tires
5. 2-speed motor
6. Wide Spread (108″ center to center axles
7. Telescopic Draw Bar
8. Telescopic Tilt Frame