RockStar Half-Round Frameless End Dump
From sand & gravel to boulders, there's no load too tough for the Rockstar 450!
Strong, Superior AR 450 
The stronger the steel, the greater its resistance to dents and cuts. Here's how that applies to the RockStar 450. Resistance to dents is measured in yield strength and resistance to cuts is measured in Brinell hardness. AR450 steel combines the highest yield and tensile strength that steel technology can provide: 32 percent greater yield strength and 36 percent greater tensile strength than AR400 steel. Compared to T-1 steel, AR450 provides 87 percent greater yield strength and 106 percent greater tensile strength. AR450 is used in all Clement RockStar 450 body panels, including the headboard and tailgate. Measured against the hi-tensile steel used by some manufacturers in their headboards and tailgates, AR450 provides 240 percent greater yield strength.
Clement's Inverted Cylinder: 

Clement's exclusive combination king pin plate allows for fast and easy conversion to either a break-away or a non break-away cylinder shaft to suit individual requirements. Without inverted cylinder there's no dog-house interfering with the load. And since the kingpin is located forward, the bridge length is longer allowing greater gross weights.

Wear superiority from AR 450: 

The harder the steel, the greater its wear life. Clement's RockStar 450 is built with the hardest steel that can be provided. AR450 is 25 percent harder than AR400 and 138 percent harder than hi-tensile steel. This translates into increased trailer life for Clement's RockStar 450. AR450 is so hard that it will stand up under this comparison: Compare the 5/16 inch AR400 used by some manufacturers in the last 8 feet of their trailer bodies against the 1/4 inch AR450 used by Clement for all body panels. Clement's AR450 steel far exceeds the wear life of the competition's AR400.

The RockStar 450's superiority: 

You be the judge and compare Clement's RockStar 450 with its 1/4 inch AR450 to what other manufacturers offer. You'll see the difference. Beat it, abuse it, treat as rough as possible. No one builds a tougher trailer than the Clement RockStar 450.

102-inch, 25,000 lb. axles in combination with 50,000 lb .suspension: 

Proven on hundreds of thousands of trailers, 25,000 lb. axles feature common inner and outer bearings. Combined with parallel spindle, both axle and bearing life are substantially increased. With hub-piloted wheels, maintenance time and costs are reduced. And 50,000 lb center point suspension provides maximum stability for either off or on road conditions.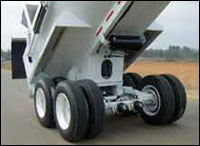 Dumps with wheels to the ground 41 degrees
Wheels on the ground is standard on the RockStar 450. Wheels off the ground is optional for those requiring higher spill points.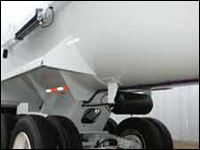 333 pounds lighter without longitudinals
The RockStar 450 comes standard without longitudinals, thereby reducing trailer weight by 333 pounds for larger payloads without sacrificing trailer strength. Optional on request are longitudinals at rear of trailer.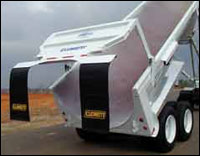 Air-lift gate with 81-inch opening
The RockStar 450's standard air-lift gate has an 81-inch opening which is larger than competitive trailers and improves discharge. Mud flaps are attached to the tailgate to reduce flap damage.
SPECIFICATIONS
1/4-inch AR450 steel body, headboard and tailgate
32-foot inside length
45-inch sides for 26 cubic yards
3/16"x 4.5"x 8"
Top rail with fabricated inverted angle at top for dirt shedding
Air-lift gate providing 81-inch opening mud flaps attached to the tailgate
Rear fenders of aluminum tread plate
Parking legs attached to draft arms
Extra long longitudinals under floor
Wide-angle stabilizer arms
Combination break-away/non break-away hoist shaft
Dumps with wheels on the ground thru 41 degrees
Inverted 85-235 hydraulic cylinder 50,000 lb.
Center point suspension
3/4-inch wall trunnion tube
25,000 lb. axles, 102-inch wide track
Same size inner and outer wheel bearings
Hub-piloted wheels 8.25 x 24.5 10 hole
11R 24.5 radial tires
Outboard brake drums
Weight: 13,483 lbs. without longs +/- 3% 13,816 lbs. with longs +/- 3%
WABCO ABS brake system —
02S-1M
Acrylic urethane paint