Quarter Frame Rock Trailers
Clement's superior engineering is your assurance of greater profits!
The ultimate for stockpiling and dumping asphalt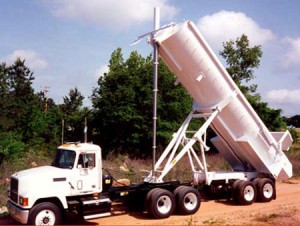 Clement's Quarter Frame steel end dump has become the standard against which other trailers are now judged. With the high dump point of a frame and the stabilizer arms of a frameless, the Clement Quarter Frame is the ultimate trailer for stockpiling and dumping asphalt into a dumping machine. The Clement Quarter Frame offers the paving contractor the opportunity to truly apply the proper trailer to his particular job requirements.
In the Quarter Frame, Clement has combined very desirable characteristics with a wide range of options so that operators can determine just what's best for them, and customize the unite to assure a maximum return on investment. It is the high dump point and the superior stability of the Quarter Fram Rock Trailer which makes this possible.
The Standard by which other trailers are judged
Dumps with wheels on the ground: 

Clement's Quarter Frame steel end dump dumps with wheels on the ground. Our Quarter Frame also gives you higher spill points.

Air-Lift gate with 81-inch opening and larger: 

The Clement Quarter Frame's standard gate has a minimum 81-inch opening that improves discharge. Mud flaps are attached to the tailgate to reduce flap damage. Barn door tailgates are optional

Clement's inverted cylinder: 

With an inverted cylinder there's no doghouse to interfere with the load. Since the kingpin is located forward, the bridge length is longer allowing greater gross weight. An inverted cylinder has no ledges where dirt can collect and contaminate the system. Because the cylinder is externally mounted, it is easier to service and faster to remove.
SPECIFICATIONS
CHASSIS
Suspension: 50,000 # Single Point – 3 leaf
Axles: (2) 102″, 25,000 lb, 5″ Round, Common Inner/Outer Bearings
Wheels: 8.25 x 24.5, 10 Hole Hub-Piloted 
Disc Tires: 11 x 24.5 Radial Hubs: 10 Hole 
Pilot Hub Brakes: Air 16 1/2″ x 7″ Outboard Cast Drum; ABS: 2S 1M
Axle Spacing: 51″
Lights: 12 Volt Sealed Beam, Rubber Grommet
Wiring: Sealed Harness Modular Plug In
Mud Flaps: Rubber Rear Only
King Pin Plate: 1/4″ AR450 (Rocking/Breakaway)
Back-up Alarm: Yes
BODY
Type: Steel Bathtub style body
Floor: 10 gauge HT50
Sides: 12 gauge HT50
Tailgate: 10 gauge HT50, Top  Hinged, Air Locked
   Front: 12 gauge HT50
Paint: One color urethane enamel over primed surface
Longitudinals: 4″x 8″x 3/16″ Tubing
Arms: 3/16″ fabricated tubing
Stabilizer: 3″ x 4″ x 1/4″
Top Rail: 4″x4″x 3/16″ Tubing
Side Braces: 10 & 12 gauge HT50 fabricated channel Intermediate
Side Braces: 12 gauge HT50 fabricated channel
Hoist Housing: 10 gauge HT50