"Michigan Trains" Steel Rock Trailers
Michigan Super Trains, quad-quad trailers with half-round bodies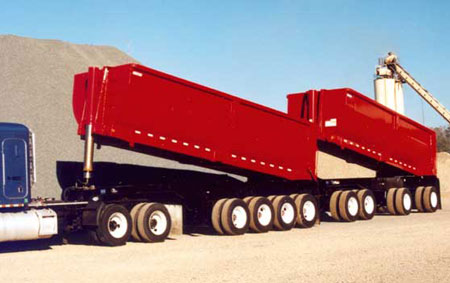 Body shells – Super Train's body shells, with 66-inch high sides and steps inside and out, are made of 1/4 inch AR400, a very tough steel that has high abrasion resistance and the ability to withstand severe impact loads as well as normally anticipated hauls.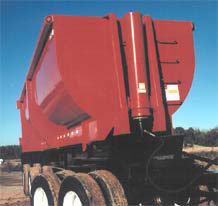 Long-life cylinders – With Clement's inverted trunnion-mounted cylinders, there's no doghouse to interfere with the load. Inverted cylinders have no ledges where dirt can collect and contaminate the system. Mounted externally, the cylinders are easier to service and faster to remove.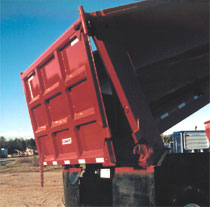 Dual-acting tailgate – Super Train's sturdy tailgates of box-braced AR400 are dual-acting with both top and barn door hinges. An optional air-lift gate is available pro-par axles and hub-piloted wheels – Proven on hundreds of thousands of trailers, 25,000 lb. pro-par axles feature common inner and outer bearings. Combined with pro-par's parallel spindle, both axle and bearing life are substantially increased. With hub-piloted wheels, there are no inner nuts and all nuts have right-hand threads. Maintenance time and costs are reduced.
Long lasting luster – Every Clement trailer gets a top-notch paint job in Clement's state-of-the-art paint facility. First, there's a special phosphate coating that fights corrosion and sets up the trailer's surfaces for a urethane primer and finish coat. The result is a trailer with the best in protective finishes and a long lasting shine.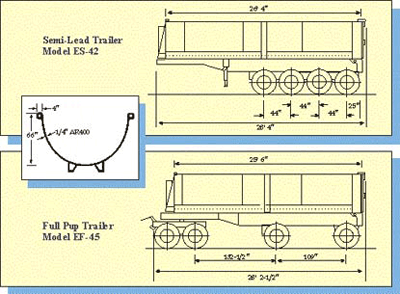 SPECIFICATIONS
General Specifications
Semi Chassis Frame: Fabricated Hi-tensile Steel I-Beam 18″ Main Frame, 9″ Front Section, 78″ long, 42 1/2″ wide
Suspension: 54,000 # 6 Spring, 3 leaf Axles: (3) 102″, 25,000 lb, 5″ Round, Common Inner/Outer Bearings
Hubs: 10 Hole Pilot Hub
Brakes: Air 16 1/2″ x 7″ Outboard Cast Drum
ABS: 2S 1M
Axle Spacing: 44″
Lights: 12 Volt Sealed Beam – Rubber Grommet
Wiring: Sealed Harness Modular Plug In
Mud Flaps: Rubber Rear Onl
Landing Gear: Stiff Leg Standard
Back Up Alarm: Yes
King Pin Plate: 3/8″
Pintle Hook: Holland T-990
Air, Lights & Oil to Rear Tire Carrier on Semi
 Body – Semi & Full
Type: Steel Bathtub style body for sand, gravel, coal, hazardous waste and aggregate
Floor: 7 gauge HT50
Sides: 10 gauge HT50
Tailgate: 10 gauge HT50, Top Hinged, Air Lock w/Air Line to Front
Front: 10 gauge HT50
Paint: One color urethane enamel over primed surface
Longitudinals: 5″x 5″x3/16″ Tubing Top
Rail: 4″x4″x3/16″ Tubing w/Inverted Angle
Side Braces: 10 – 12 gauge HT50 Hoist
Housing: 10 gauge HT50 Steps: Inside & Out
Spill Pan: 5″ on Semi
---
Full Chassis
Frame: Fabricated Hi-tensile Steel I-Beam 18″ MainFrame, 9″ Front Section, 78″ long, 42 1/2″ wide
Suspension: 44,000 # 4 Spring, 3 leaf to Front 54,000 # 6 Spring, 3 leaf to Rear
Axles: (5) 102″, 25,000 lb, 5″ Round, Common Inner/Outer Bearings
Wheels: 8.25 x 22.5, 10 Hole Hub-Piloted Disc
Tires: 11 x 22.5 Radial
Hubs: 10 Hole Pilot Hub
Brakes: Air 16 1/2″ x 7″ Outboard Cast Drum
ABS: (2) – 1S 2M
Axle Spacing: 44″
Lights: 12 Volt Sealed Beam – Rubber Grommet
Wiring: Sealed Harness Modular Plug In
Mud Flaps: Rubber Rear Only
Back Up Alarm: Yes
Dolly Ring: Jost 36″ Double Race Ball Bearing
Drawbar: 60″ heavy Duty w/Spring Balance
Dolly Hinge: Rubber Bushed
Push Bumper & Tow Hooks
Dolly Lock: Air Operated
Common Options – Semi & Full
Slant Tailgate
Wood Boards
2 Speed Landing Gear
Thicker Gauges
Wheels/Tires
Upgrade for Heavy Duty Work
Tailgate Controls
Rear Impact Guard