Frametype Rock Trailers
Proven on the Ground as a Haulers Favorite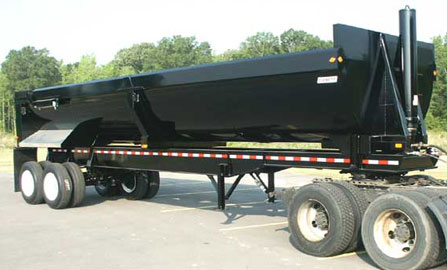 Proven "on the ground" experience – Clement's frametype Half-Round Rock Trailer has become a standard against which other frameless rock trailers are now judged. Whether it's 14-ton boulders in Ohio, 2-ton rip-rap in Texas, or even shot rock in San Diego, California, Clement's frametype Half-Round Rock handles the load efficiently. The Clement frameless Half-Round Rock trailer is also adept at handling more conventional loads like sand and gravel, liquid concrete and asphalt. This outstanding track record is the result of Clement's outstanding engineering and the experience gainedfrom thousands of rock trailers in the field.
Multiple applications
Clement's Rock Trailer's standard body shell with 45-inch-high sides, is made of 1/4-inch AR450, a very tough steel that makes the trailer capable of withstanding severe impact loads, as well as normally anticipated loads such as sand, gravel, coal, scrap, demolition, etc. AR450 steel is the highest strength that steel technology can provide: 32 percent greater yield strength and 36 percent greater tensile strength than AR400.
---
The Standard by which other trailers are judged –Meritor 102-inch, 25,000-lb. axles in combination with hub-piloted wheels 
Proven on hundreds of thousands of trailers, 25,000-lb. Meritor axles feature common inner and outer bearings. Combined with Meritor's parallel spindle, both axle and bearing life are substantially increased. With hub-piloted wheels there are no inner nuts and all nuts have right-hand threads. Maintenance time and costs are reduced
Dumps with wheels on the ground – Clement's Quarter Frame steel end dump dumps with wheels on the ground. Our Quarter Frame also gives you higher spill points.
Air-Lift gate with 81-inch opening and larger
The Clement Quarter Frame's standard gate has a minimum 81-inch opening that improves discharge. Mud flaps are attached to the tailgate to reduce flap damage. Barn door tailgates are optional.
Clement's inverted cylinder
With an inverted cylinder there's no doghouse to interfere with the load. Since the kingpin is located forward, the bridge length is longer allowing greater gross weight. An inverted cylinder has no ledges where dirt can collect and contaminate the system. Because the cylinder is externally mounted, it is easier to service and faster to remove.
---
SPECIFICATIONS
CHASSIS
Frame: Fabricated Hi-tensile Steel I-Beam 18″ Main Frame, 9″ Front Section, 78″ long, 42 1/2″ wide
Suspension: 44,000 # 4 Spring, 3 leaf
Axles: (2) 102″, 25,000 lb, 5″ Round, Common Inner/Outer Bearings
Wheels: 8.25 x 24.5, 10 Hole Hub-Piloted Disc Tires: 11 x 24.5 Radial
Hubs:10 Hole Pilot Hub
Brakes: Air 16 1/2″ x 7″ Outboard Cast Drum
ABS: 2S 1M
Axle Spacing: 49″ (50″ with Single Point
Lights: 12 Volt Sealed Beam – Rubber Grommet
Wiring: Sealed Harness Modular Plug In
Mud Flaps: Rubber Rear Only
Landing Gear: Stiff Leg Standar
Back Up Alarm: Yes
  BODY
Type: Steel Bathtub style body for sand, gravel, coal, hazardous waste and aggregate
Floor: 7 gauge HT50
Sides: 10 gauge HT50
Tailgate: 10 gauge HT50, Top Hinged, Air Lock w/Air Line to Front
Front: 10 gauge HT50
Paint: One color urethane enamel over primed surface
Longitudinals: 5″x 5″x3/16″ Tubing
Top Rail: 4″x4″x3/16″ Tubing
Side Braces: 10 – 12 gauge HT50
King Pin Plate: 3/8″ HT50Hoist
Housing: 10 gauge HT50