Three-Axle Slope Nose Frametype End Dump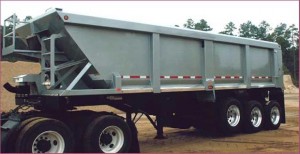 Get the payloads of Aluminum with Clement's 3-axle slope nose
Clement's Slope-nose bathtub body eliminates dead weight, allowing for maximum payloads.
Up to 2,000 pounds lighter than comparable steel units, the ES3S2834 can match the weight of most aluminum trailers.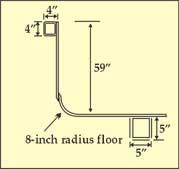 Built on a firm foundation – This unit's strength starts with a super strong, full-length, fabricated I-beam frame that's 42-inches wide and 23-inches deep.
The 3rd axle air-ride/air-lift suspension comes with a 25,000-lb. rated axle providing the strength and added braking capacity for heavy loads. Installed to provide for maximum lift when not in use, the axle comes with adjustable pressure settings for regulating axle load.
No washboarding the 1/4-inch AR450 steel wrap floor is welded over 5 x 5- inch longitudinals with no cross-members. This eliminates floor washboarding and premature floor wear. AR450 steel has nearly 3 times the strength of the hi-tensile steel used in other makes of trailers. Clement's one-piece tailgate of AR450 is dual-acting with both extra-wide and strong top and barn door hinges.
Cold weather advantage
Cold weather is less of a problem. The tractor's exhaust is circulated beneath the trailer's floor helping to keep trailer surfaces from freezing and loads from sticking.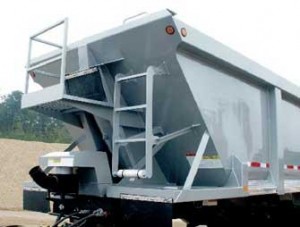 59-inchsides and ends yield a 34-cubic yard capacity. 3/16-inch AR450 steel sides teamed with the 1/4-inch AR450 floor results in maximum strength. 8-inch radius corners help prevent materials from sticking.
Every Clement trailer gets a top-notch paint job In Clement's state-of-the-art paint facility. Atmospheric corrosion is reduced by the application of a special phosphate solution to the steel before it is painted. A urethane primer and paint are then applied, resulting in a trailer with the best in protective finishes and a llong-lasting shine.
SPECIFICATIONS
28′-2-3/4-foot overall length
59-inch sides/34-cubic yard capacity
Floor:
1/4-inch AR450 steel
full wrap
Sides:
3/16-inch AR450 steel
Headboard:
1/4-inch AR450 steel
Tailgate:
1/4-inch AR450 steel
95-235 Standard hoist/ exterior cylinder
Slope-nose bathtub-style body
Longitudinals:
5 x 5 x 3/16-inch wall tubing Side braces
King pin plate:
3/8-inch steel
Tailgate:
dual-acting with top and barn door hinges
Rear lights
mounted in light box.
Landing gear:
2-speed, frametype
Man stand on the headboard
Full-length fenders of aluminum tread plate
Suspension:
Transpo with 52,000-lb. rating
Lift third axle Axles:
(3) 25,000 lb. with common bearings, 96-inch wide track
Brakes:
16-12 x 7-inch w/WABCO
4s-2m ABS Braking system
Outboard cast brake drums
Haldex automatic slack adjusters
Wheels:
(12) 11×24.5 Bridgestone
R-293, 16 ply
Sealed beam lights in rubber grommets
Sealed wiring harness
Mid-ship turn signal
Rear mud flaps and flap in front of air axle
Finish: steel pre-treated with phosphate coating, urethane primer, urethane paint