StarLite2 Frameless Steel End Dump
At 11, 300 pounds, there's no other 38-ft. steel or aluminum trailer that matches StarLite's performance!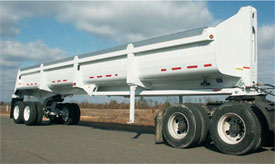 Our starting point was the basic body shell of America's most popular 38-ft. steel end dump, the Clement FleetStar. Every part and component of the trailer was reviewed with the goal of increasing trailer strength and durability, while squeezing out every ounce of unnecessary weight. The result is Clement's StarLite: a newly-designed, field-tested 38-ft. trailer, which will outperform other steel trailers and at the same time carry a ton more legal payload every trip.
Lighter than most aluminum trailers, StarLite gives you the strength of steel at an initial cost that's thousands of dollars less than comparable aluminum trailers. Maintenance cost will also be reduced with the all-steel StarLite. If maximum profits are important to you, see the Clement StarLite, the strength of steel and the payloads of aluminum!
StarLite 2 features that add to its record-setting performance!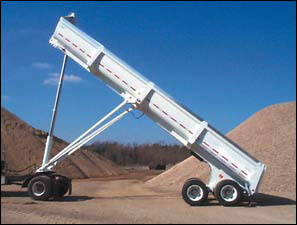 Wheels-on-the-ground dumping. There are no axle stops on the StarLite, so the wheels stay on the ground through the entire dump cycle.
Space-age Body – StarLite's brand new body shell has both curved sides and a curved floor. Every ounce of excess weight has been squeezed out.
Hat-shaped Longitudinal – StarLite's hat-shaped single longitudinal has the same wide support as two separate box longitudinals, yet it's lighter and much stronger. Gone are the center cross members and numerous weld joints.
Out of the way when dumping
FlipLite design swings lights and flaps out of the way automatically when the gate lock opens.

SPECIFICATIONS
Chassis
Suspension: 36,000 # Single Point-2 Leaf
Axles: (2) 102″, 22,500 lb, 5″ Round, Common Inner/Outer Bearings
Wheels: 8.25 x 22.5, 10 Hole Hub- Piloted Disc
Hubs: 10 Hole Pilot Hub
Tires: 11 x 22.5 Radial
Brakes: Air 16 1/2″ x 7″Outboard Dayton X30 Drum
ABS: 2S 1M
Axle Spacing: 50″
Lights: 12 Volt Sealed Beam, Rubber Grommet
Wiring: Sealed Harness Modular Plug In
Mud Flaps: Rubber Rear Only
Draft Arms: 3″ x 4″ x 1/8″ Tubing
King Pin Plate: 1/4″ AR450 (Rocking & Breakaway)
Back Up Alarm: Yes
Body
Type: Steel Bathtub style body for sand, gravel, coal, hazardous waste and aggregate
Floor: 10 gauge HT50
Sides: 12 gauge HT50
Tailgate: 10 gauge HT50, Top Hinged, Air Locked w/ Air Line to Front
Front: 10 gauge HT50
Paint: One color urethane enamel over primed surface
Longitudinal: 10 gauge 8″ x 22″
Top Rail: 4″x4″x 1/8″ Tubing
Side Braces: 10 – 12 gauge HT50
Hoist Housing: 10 gauge HT50 Dumps with all wheels on ground
Packaged Options
Side Boards: 6″ aluminum side boards
Landing Legs: Non-load bearing on body – Removable
Fender: Aluminum tread plate (AGM03)
Slant Tailgate: Air operated (BHH)
Tarp Hooks: Located at tailgate (4)