Frametype "Bridger" Steel Bathtub End Dump
25-tons of legal payload with a 32-foot body

The "Bridger" is the addition of Clement patented sliding tandem to our frametype trailer. By making this innovative application, Clement is able to extend both the internal and external bridges of the trailer, thus increasing the allowable gross payload.
However, the same thing could be accomplished by a conventional trailer by simply lengthening the frame.
The "Bridger's" major contribution to payload is transferring weight from the trailer tandems to the tractor axles and this is not possible with conventional trailers.
The "Bridger" attains maximum legal payloads with proper weight distribution not possible with conventional frametypes.
Weight distribution, not Tare weight, means up to 2-tons more payload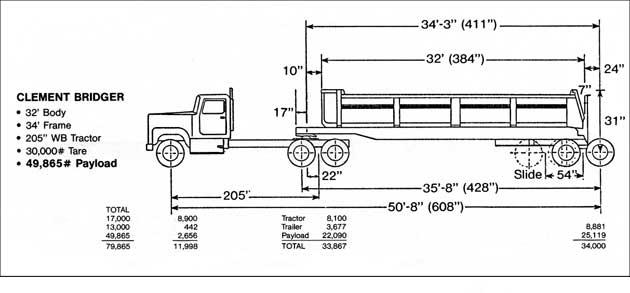 Simple in Design… To dump the load over the rear tandem, both axles of the trailer are locked. The trailer can then be moved backward, positioning the axles correctly for dumping. After locking the tandem, the trailer can be dumped as any other end dump. The "Bridger" is a viable option for any length Clement frame or frameless end dump trailer.