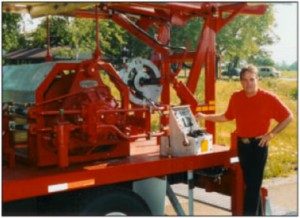 Tiger General sells the best swab rigs in the land – not just in Ohio. But you already know that. However, we offer so much more. Whether you're looking for that new swab rig, or you need a winch truck, vacuum truck or a dump truck, we've got you covered. There are numerous ways we can help you. And similar to l all good relationships, you should get to know us first.
We understand your needs
Purchasing a piece of business equipment  should feel like an investment – not an expense. One way to ensure you see its value is to see how it performs in action. At Tiger General, we design and specify everything based on what jobs you'll need the equipment for. In addition to giving you exactly what you need to make your job easier, we also make sure to solve any problems quickly should they arise. With Tiger General, you're getting a product that is going to make your life easier, not harder.
We've been around quite a long time
Tiger General has been around since 1925 – that's nearly 100 years – or if you're a dog person, nearly 700 dog years! We have been providing quality oil field equipment to our friends in the oil and gas industry for a long time and we believe in our products. But more importantly, so do our customers!   
Helpful, Friendly Staff
With years of industry experience, our team can provide unparallelled support. Also, think about it, how many companies can you call  today and get direct access to the owner of the company? Not many. Mark Overholt, President of Tiger General, sure knows his stuff and he's happy to talk shop with you!
Ready to take the next step? Give Us a Call!
At Tiger General LLC, we've been supplying oilfields with top quality trucks since 1925. Not only do we provide the best available quality of both new and used winch trucks and other equipment, we also provide stellar after-sale support for all of our customers. Please feel free to contact us at your convenience for more information on getting the winch truck that best suits your individual needs and preferences.