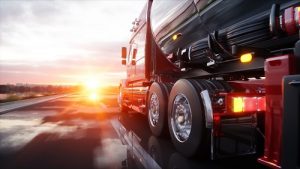 Your fleet of trucks and rigs get put through their paces on the jobsite. Furthermore, each is subject to the normal wear and tear of your demanding industry. While it's important to stay vigilant about regular maintenance to ensure every vehicle remains safe throughout its lifetime, it is equally as important to ensure your drivers' safety as well.  
FMSCA Compliance
Like any other driver, oilfield drivers are subject to the guidelines of the Federal Motor Carrier Safety Administration (FMSCA). Let's first review the basics that apply to all drivers:
No driving more than 8 hours without an off-duty break of 30 minutes or more

No driving more than 11 hours in a 14-hour window

No driving more than 60 hours within a 7-day window
These regulations are very well-established. However, it's important to remind ourselves of them every once in a while, to ensure a safe working environment for everyone.
FMSCA Exemptions for Oilfield Drivers
Despite the normal FMSCA regulations that apply to all drivers, there are certain exceptions made for oilfield drivers. These exceptions include:
Splitting Breaks. If driving a vehicle that is constructed specifically for oil and gas, drivers can split their breaks into 2-hour segments or more, as long as they are in a sleeper berth or sleeping facility. Any two breaks can be combined to meet the 10-hour break requirement.

24-hour restart, opposed to the normal 34-hour regulation. Furthermore, this exception can be used for any 24-hour span, regardless if it's one break per week or split between two.

Waiting time can be logged as off-duty time. Waiting time will not count against the 14-hour limit, provided the vehicle being driven is specifically for the oil and gas industry and is specialized for that purpose. It should be noted that drivers using this exemption cannot claim short-haul exemptions
Ready to get your trucks on the road? Give us a call!
At Tiger General LLC, we've been supplying oilfields with top quality trucks since 1925. Not only do we provide the best available quality of both new and used winch trucks and other equipment, we also provide stellar after-sale support for all of our customers. Please feel free to contact us at your convenience for more information on getting the winch truck that best suits your individual needs and preferences.