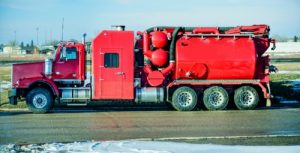 Vacuum trucks are an essential part of and oil or gas operation. A reliable and safe truck means better efficiency and more productivity. Tiger General has been supplying the oil and gas industry with some of the best vacuum and other trucks for nearly 100 years. Delve into the benefits of adding a Tiger General vacuum truck to your operation's fleet.
Benefits of a Tiger General Vacuum Truck
Tiger General was one of the very first manufacturers to design, engineer and produce vacuum trucks for the oil and gas industry. Our field tested, and oil field proven vacuum trucks are used widely around the world. Since 1925, we have continued to improve our products to accommodate the needs of an ever-changing and evolving industry.
When you purchase a vacuum truck, or any equipment from Tiger General, you're also buying a legacy of 100 years of experience, service and trust. Our mission is to provide our fine customers with the very best, well engineered products and services.
Tiger General Vacuum Truck Pumping System
Tiger General uses National NVE 607 MAX PAK water cooled pumps, producing 357 CFM max air flow. The maximum intermittent vacuum is 28 inches. The max intermittent pressure is 30 psi 9max tank psi is 14. The trucks come with an optional water cooled pump with the same specs pre-mounted and unitized with a right angle box final aluminum moisture trap filter.
Other features of Tiger General vacuum trucks include a 12-inch oil catch muffler, relief manifold with vacuum and pressure gauge and relief, 2-gear air shift PTO and 1360 spicer driveline. Additionally, Tiger General provides a number of optional add-ons to make sure your truck meets your exact specifications. The options include oil field bumpers, electronic fluid level gauges, heated valves, bigger pumps (519 CFM) and a custom paint job.
Learn More About Tiger General Vacuum Trucks
Vacuum trucks are an integral part of any oil and gas company's daily life. We want to make sure you feel confident about your purchase. To learn more about our vacuum trucks, view our downloadable flyer or watch our vacuum truck walk around. Ready to get started? Fill out our truck inquiry form.