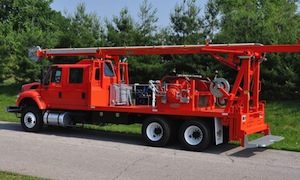 Purchasing a swab master rig is a substantial investment. The right swab master rig is going to be able to perform consistently for a long time to come, whereas the wrong swab master rig may end up becoming a sink for both money and time. Tiger General, LLC works hard to ensure the high quality of its swab master rigs, by focusing on the factors that companies find most important.
The Important Factors of a Swab Master Rig
Durability and reliability. It isn't just that you want your equipment to last a long time to come; it's also that a break down during a project or in the field can cost you to lose extremely valuable days. The swab rigs produced by Tiger General, LLC are intended to be able to be used for at least 15 years or more, as long as they are properly maintained.
A strong design with a lightweight frame. The lighter equipment is, the easier it is to operate and maintain. But ease of operation cannot sacrifice performance. Swab master rigs by Tiger General, LLC is able to offer 92% of total power to the drum, compared to 65% across other industry equipment. This optimized equipment is more effective and more reliable.
Easy and affordable maintenance. By ensuring that a swab master rig is as simple as possible, it's possible not only to focus energy to the drum but also make the machinery itself easier to maintain. The simpler a system is, the less likely it is to incur a breakdown.
Purchasing New, Used, or Reconditioned Swab Master Rigs
New. New swab master rigs are an investment. Though they are going to be more expensive, they're going to have decades of usable life. For businesses that are interested in building their fleet and their assets, a new rig may be ideal. New rigs will come with fewer potential problems than older rigs and will need less servicing (though maintenance is still important).
Used. Used swab master rigs generally give the most value for their cost. Because swab master rigs can last so long while remaining reliable and productive, a used rig isn't necessarily any less useful than a brand new rig. There may be issues in a used rig that aren't in a new rig, but the cost differential is significant.
Reconditioned. A reconditioned rig may have had certain parts removed or repaired. In general, reconditioned rigs are often in better condition than a used rig, because they have been thoroughly reviewed and repaired. Tiger General, LLC makes sure that all their used and reconditioned equipment is up to task.
Tiger General, LLC has provided exceptional swab master rigs to the oil field industry since 1925. Contact Tiger General, LLC today for more information about custom swab rigs that have been designed for any application. These custom swab rigs come with only the best in value and after sale support.