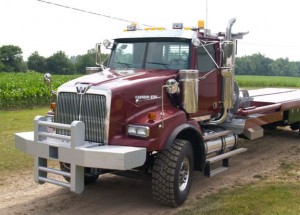 Any time you're thinking about buying a car, thorough research prior to purchase is necessary in order to buy the best possible option for you. Commercial trucks are no exception; a lot of thought can and should go behind finding the correct oil truck for you. This process goes beyond simply looking at advertisements for commercial trucks; there are numerous other factors to consider, one of the most important being the value of the vehicle of your choice. In order to determine this, there are a lot of tools, resources, and professional advice online meant to help you through this process. With them, you can rest assured that all your questions about commercial truck hunting will be answered.
Online Resources:
Services like the Official Kelley Blue Book and NADA Guides are the go-to websites when starting the hunt for new and used cars, but they won't report the values of commercial trucks—you'll have to dig deeper for that.  Try searching for online listings:
Truck Paper: Facilitates advertising of heavy trucks and trailers from local and national dealers
Commercial Truck Trader: Lets you find auctions, research truck resources, provides buying guides, and more
eHowNow: Lets you talk to a professional live to help you answer any questions you have that a blue book or value guide won't answer.
Remember to search locally as well: use advertisements in the newspaper or contacts from your phonebook to locate a local dealer or private seller whom you can get an appraisal from. These websites should be enough to give you an idea of what you're looking for, at which point you'll want to start narrowing down on a list of trucks that meet your requirements. So find the truck that fits your needs best. You'll also want to set a budget and decide whether to go with a new or used truck.
Inspecting the Vehicle: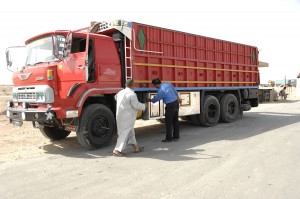 Inspecting the truck before buying it is a crucial step that should not be overlooked. Local dealers allow you to come in for an appraisal, which lets you get a more accurate idea of the value of the truck.
Tip: Bring a friend!
Take advantage of this by bringing a mechanic or an auto expert with you; it'll cost more, but getting a professional opinion on the vehicle you are making an investment in is always a smart idea. Depending on the state of the truck, you might also be able to lower the offering price with a professional opinion backing you up. Test-drive any trucks you may potentially buy to ensure they are the right fit for you or your company needs.
Offline Resources:
Blue books and value guides aren't the only resources you should check out, however. You'll also want to make use of resources off the Internet, including:
Newspapers and Phonebooks: As previously mentioned, newspapers and phonebooks are great resources to find local dealers that sell commercial trucks.
Truck Rental Companies: Another surprising resource many buyers skim over is a truck rental company. Some places might be willing to sell used rental trucks and should not be ignored if you don't mind purchasing a used vehicle.
Car Auctions: If these resources still aren't cutting it for you, you can dig even deeper by visiting car auctions, which often feature commercial trucks. Just make sure to keep tab on when they're around; dealers near you might be able to provide some information on automobile auctions every month.
Finding the Best Fit:
Above all, make sure that whatever truck you choose is the best option for your company. When looking for commercial trucks specifically, safety is always a major concern. Make sure to keep the history of the vehicle in mind if you go with used. Dealers are required by law to tell you about any incidents, safety issues, or mechanical work done in the past. Also keep in mind the fact that the legal size of each truck varies from state to state, especially if you're looking to purchase from an out-of-state dealer. If you are in the market for a new truck but don't have the best credit, refer to our previous blog post about possible ways you could finance on. Keeping these factors in mind will help you secure a Tiger General vehicle that'll make a good investment for your company and industry needs.