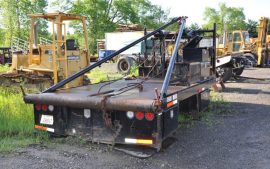 When you purchase a Tiger General winch truck, you're also purchasing nearly 100 years of experience, top-notch customer service and excellence. Like all equipment we sell, the Tiger General Winch Master is more than capable to meet the needs of any oil and gas field. Our Winch Masters are used around the globe and are built to last. Keep reading to learn more about these top-of-the-line machines.   
Quality from the Ground Up
Every single nut and bolt on a Tiger General Winch Master is expertly built with your exact requirements in mind. We started with your choice of chassis, new or used. We offer chasses from International, Western Star, Kenworth, Peterbilt, Mack and Freightliner. Built to last, all Winch Master components are bolted for easy serviceability.  We use an 8" tail roller with sealed ball bearings, and all components are tailored to fit properly. Every Winch Master comes primed and painted with a two-stage epoxy paint process for extra durability
Tiger General Winch Master Specs
These well-engineered, clean and field-proven trucks can tackle any terrain, from the Rocky Mountains to the deserts of the Middle East. Rig up body specs are built with power and dependability in mind. We start with a 130,000 pounds hydraulic planetary drive main winch along with an 80,000 auxiliary winch. Other features include galvanized log chain locking storage on left and right winch ends, and rear tailboard cable exit rollers or ferro leads.
Additionally, the cab is  fully loaded with all controls. Air controls are located between the seats, and you can operate the winch with spool valve outside the left controls. Our Winch Masters will also allow you to  operate two controls at a time. Finally, all Winch Masters are fully customizable, and we offer a number options to meet your company's specific needs. Add oil field bumpers and custom compartments, as well as custom lettering and paint jobs.
Learn More About Tiger General Winch Trucks
This is just a brief overview of our custom-built Winch Master trucks and tractors. For more information, download the complete flyer, or fill out our the Tiger General truck inquiry form.