The Benefits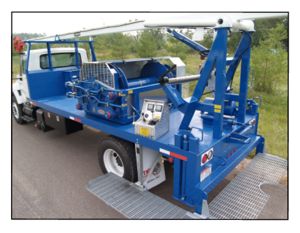 The extraordinary benefits of hydraulic drives were established long ago. When you put 100 horsepower into an old-fashioned chain and sprocket drive rig, you get about 65 horsepower at your winch drum. 100 horsepower put into our hydraulic pump yields at lease 92 useable horsepower at the winch drum.
Your all-hydraulic Swab Master swabbing rig is fast, powerful and easy for one man to operate. We pack big power into a compact package. Swab Master fits on a much smaller truck chassis, not an expensive crane-carrier type truck.
Cruise from job-to-job at top highway speeds. The hydraulic pump is direct driven from the truck engine.
Why maintain two engines? Burn far less fuel than older engines. Even the 16,000- foot machines are legal on single-drive axle chassis. Best of all they are field proven to work hard and live long productive lives.
The direct hydrostatic drive gives you unlimited speeds with full torque available even at dead slow. Pull 6 barrels of dead fluid at 1,000 feet per minute. Without breaking a sweat, the hydrostatic drive can easily go 15 years, or 35,000 hours without a major overhaul, just do the simple routine maintenance. Hydrostatic brakes save big bucks on brake maintenance and downtime.
Your new Swab Master all-hydraulic swabbing rig is fast, powerful and easy for one man to operate and maintain.
The construction industry learned the benefits of hydraulics many years ago. Today you don't see any mechanical chain and sprocket drivers anymore. The oil patch is about to wake up. Here's why.
Long ago the construction industry saw the benefits of hydraulic drives. It's simple. When you put 100 horsepower into the old-fashioned chain and sprocket drives, you get only about 65 horsepower at the drum. When you put 100 horsepower into our hydraulic drive, you get at least 92 horsepower at your drum. Why mess around and spend your money on old- fashioned stuff? In which century do you want to operate?
Today you can gain the benefits and profits the construction industry gets. Call now and get your name on our waiting list for an all new hydraulic Swab Master swabbing rig.Oilfield Swab Rigs, Swab Rigs for Sale – Tiger General LLC Why mess around with old, used or so-called rebuilt old rigs? With the special 44% depreciation off the first year soon to expire, can you really afford anything other than a new, modern, fast Swab Master swabbing rig?
Your customers will be delighted when you show up with your new efficient swabbing rig.
Don't let the size fool you. We pack big power and speed into a compact package. We put the beef where it's needed for long life. All other designs are just big, heavy inefficient designs.
Fewer Parts Means Fewer Problems! Your Swab Master swabbing rigs have far fewer parts. Doesn't it stand to reason that fewer parts mean far less maintenance? Fewer parts to fail also means that you have more up-time. Doesn't that make good sense?
We offer rigs mounted on F550 Ford 4 x 4's that are rated to 7,500 feet to rigs mounted on International medium duty chassis rated to 16,000 feet. Pull 4-6 barrels of fluid with ease at 1,000 feet per minute average.
Do you really intend to put your hard-earned money into an old junk rig someone claims they rebuilt? A new, state-of-the-art Swab Masterswabbing rig will deliver greater productivity and profits. You'll also experience lower operating costs while you're getting a big tax saving.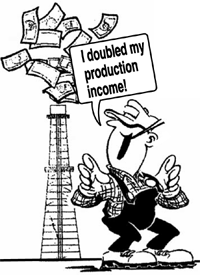 WHY MESS AROUND?
Invest in your new swabbing rig and "Beat the Feds." Keep far more of your hard earned money. Use the new "Economic Security and Recovery Act of 2001." (Public law #107-147). Get a 44% write-off the first year.
Tell your "Bean Counter" you want to save 44% on your income taxes the very first year by investing in a new, fast, powerful, highly productive Swab Master swabbing rig from Tiger General LLC.
Why mess around with old used rigs? Take advantage today and gain far more efficiency and net worth.
Pull 6 barrels of fluid at 1,000 feet minimum without breaking a sweat.
THIS IS ONE OF THE BEST DECISIONS YOU'LL EVER MAKE.