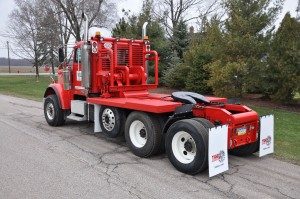 A complex and vital industry, oil and gas require specialized trucks in order to efficiently complete the process of extracting these elements out of nature. Understanding the differences between the various rigs and trucks helps clarify the important roles they play during this process.
Swab Rigs
The purpose of a swab rig is easy to remember if you focus on the fact that it "swabs," or removes, the fluids from a well's production zones so that the natural resources inside can be effectively removed. Once the swab rig is backed as close to the well as possible, a cable is lowered inside and moved up and down. Bottom-hole pressure is created which enables the well to function, and the natural resources are pushed to the top. There, they can be removed by waiting oilfield workers.
Winch Trucks
The primary purpose of a winch truck is to carry and move heavy equipment from one location to another. A key feature of a winch truck is the presence of a winch, which is used to pull or lift heavy objects on and off the truck bed before placing them where they are needed.
Vac Trucks
Vac trucks are easy to identify because of the large tank that is present on the truck's back. The tank is used to hold sludge, liquids, or solids that are loose enough to be vacuumed out by the heavy-duty vacuum attached to the truck. In the oil and gas industry, vac trucks are used mostly to transport natural resources. This is the type of vehicle that has applications in other industries as well.
These three trucks serve as the backbones of any oil and gas application. Knowing their functions helps you understand how vital they are to your own success. Since 1925, Tiger General has been the name that comes to mind when oil and gas equipment is needed.
Ready to take the next step? Give us a call!
At Tiger General LLC, we've been supplying oilfields with top quality trucks since 1925. Not only do we provide the best available quality of both new and used winch trucks and other equipment, we also provide stellar after-sale support for all of our customers. Please feel free to contact us at your convenience for more information on getting the winch truck that best suits your individual needs and preferences.