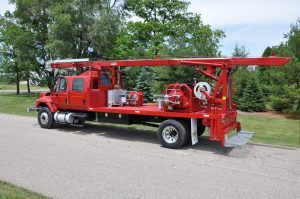 If you've been following along the past few weeks, you should know one thing for sure:Tiger General knows swab rigs. Whether you're considering buying a brand new swab rig, or your budget has you looking for a used swab rig, there are a few things you need to consider.
Swabbing is an investment. And boy, does it pay
Whether you go with a new swab rig or a used swab rig, it will give you great returns on your investment. The process of swabbing a well is so important because it allows you to tap into wells that have otherwise been thought to be dried up. Swabbing extends the life of your wells, thus keeping the well flowing and the money coming.
New Swab Rigs
What is the main advantage of buying a new swab rig?  You get to customize your swab rig to your exact specifications. This isn't always possible when considering a used swab rig. A new swab rig requires very little maintenance – actually half the maintenance of an old-fashioned swab rig. It's important to keep up with what little maintenance you do have to ensure the swab rig continues to run at its  highest level.
Used Swab Rigs
Depending on your budget, a used swab rig may work just fine. Unlike a new swab rig, you can't necessarily customize it to meet all of your requirements. In fact, you may get lucky and find exactly what you're looking for. But when going used, you may have to be willing to give up a few desired features to stay within your budget.
Don't just use any swab rig. Use the best.
Tiger General has been the leader in the oil & gas industry since 1925, producing the finest designed, engineered and manufactured products. Tiger General, with its design, has field-tested and proven swabbing trucks that will meet your needs. We can provide these swab rigs on either a new or used chassis from the major producers of industrial truck manufacturers.
Call Tiger General today with your requirements. We are eager to serve you, as we have since 1925. Tiger General only uses quality, proven components in all of its manufactured products. Learn why Tiger General is your best choice for Swabbing Rigs