Winch Bed Truck Twin Steer 110,000# Planetary Rears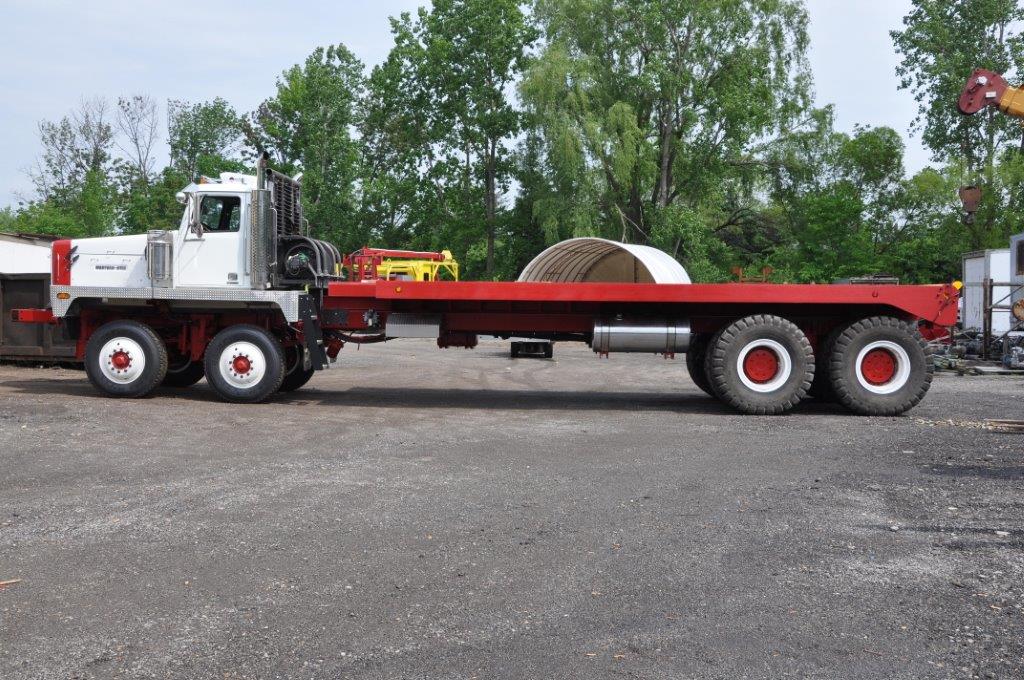 See More Pictures Below
Truck under construction. Approximately 80% complete.
2013 Western Star 6900 Twin Steer, Chassis specs
Western Star New Glider 6900-XDG kit.
368 W.B. 325" CT.
Triple Frame.
White cab.
Red Frame.
S/N 5KKXAT008DPFF0232
Donor Truck:
'96 Western Star 6900.
'98 Emissions.
Engine
Cat 3406-E 435-500 HP Engine
33,800 Miles.
7,220 Hours.
Excellent condition.
Pulled pan
Checked bearings. All like new.
Installed new rod & main bearings.
Engine Dry. Runs Strong
Exhaust:
Dual Bright.
Bright Muffler guards.
Engine MISC:
Dual Polished Stainless Cowl mounted Air Cleaners.
1,600 Sq.In Copper/Brass Radiator.
Trans oil cooler
Block Heater, Gates Blue Strip water hoses.
Polished Battery Box Cover.
Air & Electric controls to rear of frame for trailer hook ups. Two Hand Valves. One for Quick on/off
Transmission:
Rebuilt Fuller RTO 14708LL 1818 Spicer Driveline.
New Cross-Bearings
Auxiliary Transmission:
New Spicer APO-1750 Air Shift.
Front Axles:
2-20,000# with 36,000# 4-spring slipper front suspension.
72" Spacing. Shock Absorbers.
110,000# Rockwell SPRC 1927 Planetary Rears:
11.1 Ratio
4.33 Diff Ratio.
Chalmers 865 110,000# Rear Suspension:
Re-bushed.
New Brakes.
New Oil.
Front Tires:
New 12R24 18 ply Goodyear G288. OTR Hub Piloted Steel Wheels
Rear Tires:
16 x 25. 60% Tread. Cast Spoke Wheels.
Fuel Tanks:
2-Polished Aluminum 100 Gallon with Polished Stainless straps.
23" diameter.
Mounted Ahead of Drive axles.
Chrome Locking Fuel tank Caps.
Arctic Fox Fuel tank Heaters Two.
Raycor 490R10 Fuel and Water Separator with see through bowl and Primer Pump.
Insulated fuel lines.
Cab & Interior:
141 BBC. 110" Wide. Galvanealed Steel Severe Service Cab.
Front Alum Opening Fenders.
Fiberglas Butterfly hood.
Bright Stainless Radiator Shell.
Dual 26" long Hadley Air Horns, with covers.
Windows & Mirrors:
Dual Moto Powered and Heated.
Dual Bright Stainless 8" spot mirrors.
Right door Peep Window with mirror.
Power L&R windows.
Power locks.
Cab Interior:
Premium Grey/Maple leaf Red.
Door Trip Cherry Accents.
Black double insulated floor mats.
Door Storage Left and Right.
Instrument panel Rosewood Matt finish.
Heater Air Conditioning. Low Roof
Mounted A/C Condenser.
Delphi Premium AM/FM /WB/SIRES Radio with CD.
4-Premium speakers.
Provisions for CB.
Tiger "Winch Master" Bed Truck; Rig Up Spec
130,000# Hydraulic Planetary drive main hydraulic winch. Ramsey WC-130
* Please note: Cable not included on winches for liability reasons
Headache rack 4" square tubing.
4 ½"SK 40 round across top.
½"x 2 ½" flat window/cab guard.
"Venetian Blind" type bars between posts.
1" x 6" wide "curls over winches to allow loads to skid on winch area.
Cable confining side plates on drums and around drums with pan.
Bed-29 Foot long behind winches 11-ft wide.
Body:
Sunken bar grading 3/16" x 1 ½"x 15/16" centers, Storage decking behind winch.
Log chain locking storage on left and right at winch ends.
8" x 23 # I-beam main frame. Approximately 72" ground to top of bed
8" W-Beams 21# I-beam XM on prox 18" centers.
Angle formed Gussits on all XM
10" X 15.3# Channel side rails
Deck plate. 1/4" diamond plate steel decking
Hydraulics:
Live piston hydraulic power.
Load Sense.
Crankshaft driven.
50-gallon hydraulic oil tank with sight/level gauge & clean out.
Gate valves.
Oil filter.
Engineered steel tubing and hose plumbing. Mounted properly to prevent chaffing.
Control valve. "Feathering style" all air controls in cab. Between seats.
Can also operate winch with spool valve outside left side.
Pin pockets or bar pockets 4 per side, 8 total at rear, plus two at roller.
Rear tail roller 12" diameter x ¾" wall steel, Drop center. Prox 128" long. 1" above top of deck.
Rear tail roller framed in 14" 90# H-beam. Tail roller shaft 4-1/2" x 6" long. Needle bearings.
Tailboard Smooth prox 26" high, ½" plate below tail roller center frame 8" x ¾ Wall center
Tubing at bottom of tail plate with mouse hole for tow chain
Contoured ¾" plate tied in to tail plate, Tail roller "I "beam, Then bolted to truck frame.

Tailboard side plates ¾" plate, contoured burn out, down and forward prox 24"
Misc:
1-18"x18"x48" tool box. Location to be determined. Steps and grab handles as necessary.
Two tire chain racks. One on each side. location to be determined
Front oil field push bumper with flush front brush guard and tow flap. Swept back sides. 8 x 8 x 3/8" Square tubing.
Everything bolted to truck chassis and serviceable Sandblasted.
Tiger Hyde Encapsulated Red Paint system. Similar to Bed liner Paint system
Truck Lite sealed lights.
4 -3000 candle power work lights.
* Please note: We understand you might want to make changes, If rig up not completed.
Price…$449,000.00
Normally these trucks sell for well over $650,000.00