ScrapStar 62 Cubic Yds Frameless Scrap Trailer
The Clement ScrapStar Mark II for Rugged, Unrestricted Scrap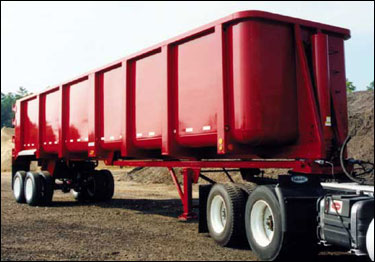 37-ft, 62-cubic yard Frameless Scrap Trailer 
You don't see savvy scrap haulers buying the same trailer again and again unless it's making them money, lots of money. Clement ScrapStar, Mark II is designed and configured for maximum profitability with high-strength, abrasion resistant steel (AR450) that gives you the ability to haul the full spectrum of scrap. Premium components, which are options on competitor's trailers are standard of every Scrapstar. That's because money is made on the road, not in a repair shop. Add Clement's superior design and construction and you have a solid moneymaker. Read more reasons why you should buy a Clement Dump Trailer.
Premium Components are standard on the ScrapStar because money is made on the road, not in the repair shop.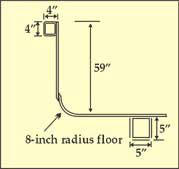 The Clement Bathtub body, with its 8 inch radius wrap floor with no center seam, is supported by longitudinals rather than cross members. This design has been so successful that it has become the most imitated body in the industry.Urethane Paint
A Class-8, truck-quality urethane paing is applied to ensure maximum protection and long life.

Proven in hundreds of thousands of trailers, the 25,000# axles used in Clement Scrap trailers feature common inner and outer bearings. In combination with Meritor's parallel spindle, both axle and bearing life is substatially increased.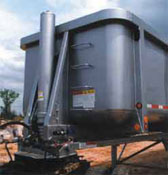 Clement's Inverted Cylinder
With an inverted cylinder there's no doghouse. An inverted cylinder has no ledges to collect dirt, water and ice, so the cylinder packing remains clean with no dirt pulled into the system. In an inverted cylinder, oil lays on the seals when the trailer is not in use, keeping the seals lubricated to prevent dryout and cracking.
SPECIFICATIONS
CHASIS
Suspension: 50,000 # Single Point – 3
Leaf Axles: (2) 102″, 25, 000 lb, 5″ Round, Common Inner/Outer Bearings
Wheels: 8.25 x 24.5, 10 Hole Hub-Piloted Disc
Tires: 11 x 24.5 Radial
Hubs: 10 Hole Pilot Hub
Brakes: Air 16 1/2 x 7″ Outboard Cast Drum
ABS: 2S 1M Axle Spacing: 51″
Lights: 12 Volt Sealed Beam, Rubber Grommet
Wiring: Sealed Harness Modular Plug in
Mud Flaps: Rubber Rear Only
Draft Arms: 3″ x 4″ 1/8 Tubing
King Pin Plate: 1/4″ AR450 (Rocking/Breakaway)
Back-up Alarm: Yes
BODY
Type: Steel Bathtub style body for steel scrap & demolition
Floor: Full Wrap: 1/4″ AR450
Sides: 3/16″ AR450
Tailgate: Barndoor 3/16″ AR450
Front: 3/16″ AR450
Paint: One color urethane enamel over primed surface
Longitudinal: 4″ x 4″ x 3/16″ Tubing
Top Rail: 4″ x 4″ x 3/16″ Tubing
Side Braces: 3/16″
Hoist Housing: None – Inverted Outside Hydraulic Cylinder
REASONS TO BUY A CLEMENT DUMP TRAILER:
CLEMENT IS YOU'RE BEST VALUE, BECAUSE CLEMENT USES ALL PREMIUM COMPONENTS.
CLEMENT USES HARDOX CERTIFIED STEEL WITH BACK UP PAPER WORK. THE OTHERS DON'T.
CLEMENT WELDS ALL SHELL SEAMS 100% MEANING WELD, THEN BACK CUT OTHER SIDE TO RE-WELD TO 100% THIS IS A VERY IMPORTANT BENEFIT THAT OTHERS HAVE NOT EVEN THOUGHT ABOUT.
CLEMENT USES 102" WIDE 25,000# AXLES, STANDARD. WAY AHEAD OF THE CROWD.
CLEMENT USES THE EXPENSIVE CUSTOM HOIST WITH ADJUSTABLE PACKING GLANDS. BIGGER AND THICK CYLINDER TUBING. THEREFORE IT GIVES MORE PUSH AT LOWER PRESSURES
CLEMENT MOUNTS THE EXPENSIVE CUSTOM HOIST INVERTED ON TRUNION MOUNTS. THIS KEEPS DIRT OFF THE PACKING GLANDS. THIS DELIVERS NO DOG HOUSE. THE MOUNTS ARE BRASS BUSHED FOR SERVICE AFTER YEARS OF DUMPING. THE OTHERS DON'T.
LOOK AT THE TAILGATE SYSTEM. HUGE HINGE AND LATCH SHAFTS. GREASE ABLE HINGES
LOOK HOW THE HINGE MOUNT PLATES SPREAD THE STRESS IN A BIGGER AREA THAN ALL OTHERS
REAR BOLSTER IS HUGE, BEEFY, DEEP, DOUBLE BOLSTER & THICK TO HELP STABILIZE THE REAR SHELL FROM DE-FORMING. HELPS KEEP GATE CLOSING CORRECTLY.
ONLY CLEMENT UNDERSTANDS THE STRESS AT THE SUSPENSION AREA. CHECK OUT HOW CLEMENT SPREADS THE PEDESTAL MOUNT STRAIN. CLEMENT HAS LEARNED THIS AND TONS MORE ABOUT STRESS, WELDING, AND WELL THOUGHT OUT DESIGNS. "WE HAVE PAID THE PRICE TO LEARN. WHAT IT TAKES TO DELIVER THE BEST, LONGEST LIVING DUMP TRAILER ON THE PLANET. WE HAVE BUILT 100'S MORE TRAILERS THAT THE NEXT 3 COMPETITORS COMBINED. WE HAVE MORE EXPERIENCE IN HOW TO BUILD THE BEST TRAILERS STANDARD FORMED ONE PIECE DIRT SHREDDING TOP RAIL."
BEST OF ALL YOU GET ROCK SOLID BACK UP WITH CLEMENT WARRANTIES. AND BETTER YET, WE WON'T QUIBBLE ABOUT FIXING IN YOUR SHOP AND QUALIFIED LOCAL SHOPS. IF YOU SEE ANY PROBLEMS. WE WILL AUTHORIZE A FIX AND SEND THE CHECK WITHIN 7 DAYS OR PRESENT A CREDIT CARD TO PAY AN OUTSIDE SUPPLIER. NO ONE DOES THAT OTHER THAN Tiger General LLC.
GO WITH THE PROVEN LEADER, Tiger General LLC AND CLEMENT FOR THE VERY BEST VALUE.