ScrapStar 52 Cubic Yds Frameless Scrap Trailer
The ScrapStar Mark II for rugged, unrestricted scrap

37-ft., 50-cubic yard Frameless Scrap Trailer
You don't see savvy scrap haulers buying the same trailer again and again unless it's making them money, lots of money. Clement ScrapStar, Mark II is designed and configured for maximum profitability with high-strength, abrasion resistant steel (AR450) that gives you the ability to haul the full spectrum of scrap. Premium components, which are options on competitor's trailers are standard of every Scrapstar. That's because money is made on the road, not in a repair shop. Add Clement's superior design and construction and you have a solil moneymaker.
Preminum Components are standard on the ScrapStar because money is made on the road, not in the repair shop.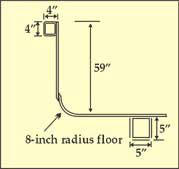 Urethane Paint
A Class-8, truck-quality urethane paint is applied to ensure maximum protection and long life.
102" Axles by Meritor Proven in hundreds of thousands of trailers, the 25,000# axles used in Clement Scrap trailers feature common inner and outer bearings. In combination with Meritor's parallel spindle, both axle and bearing life is substantially increased.

Extra Value, a firm foundation
Building a trailer is a lot like building a house. Put as much strength possible in the foundation and the structure will be strong and it will last! With every trailer we start with 25,000-lb., 102-inch wide axles. Then the axles with parallel spindles permit common inner and outer bearings greatly increasing both bearing and axle life. A heavy duty 50,000-lb. Center point suspension is another Clement standard, or if the buyer prefers, 50,000-lb. Air ride can be specified. Hub-piloted wheels have no inner nuts and all nuts have right-hand threads, plus there are only 10 nuts instead of the usual 20. This reduces both maintenance time and cost. . None of our competition has a stronger foundation than the one that's standard on every Clement trailer, and few even come close.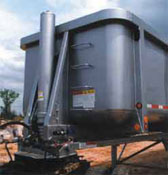 Clement's Inverted Cylinder
With an inverted cylinder there's no doghouse. An inverted cylinder has no ledges to collect dirt, water and ice, so the cylinder packing remains clean with no dirt pulled into the system. In an inverted cylinder, oil lays on the seals when the trailer is not in use, keeping the seals lubricated to prevent dryout and cracking.
SPECIFICATIONS
CHASSIS 
Suspension:

style="font-family: Verdana, Arial, Helvetica, sans-serif; font-size: 11px; line-height: 17px;"> 50,000 # Single Point – 3 

   
Leaf Axles:

style="font-family: Verdana, Arial, Helvetica, sans-serif; font-size: 11px; line-height: 17px;"> (2) 102″, 25,000 lb, 5″ Round, Common Inner/Outer Bearings 

   
Wheels:

style="font-family: Verdana, Arial, Helvetica, sans-serif; font-size: 11px; line-height: 17px;"> 8.25 x 24.5, 10 Hole

style="font-family: Verdana, Arial, Helvetica, sans-serif; font-size: 11px; line-height: 17px;">Hub-Piloted Disc

Tires:

style="font-family: Verdana, Arial, Helvetica, sans-serif; font-size: 11px; line-height: 17px;"> 11 x 24.5 Radial

Hubs:

style="font-family: Verdana, Arial, Helvetica, sans-serif; font-size: 11px; line-height: 17px;"> 10 Hole Pilot Hub

Brakes:

style="font-family: Verdana, Arial, Helvetica, sans-serif; font-size: 11px; line-height: 17px;"> Air 16 1/2″ x 7″ Outboard Cast Drum;

ABS:

style="font-family: Verdana, Arial, Helvetica, sans-serif; font-size: 11px; line-height: 17px;"> 2S 1M Axle Spacing: 51″

Lights: 

style="font-family: Verdana, Arial, Helvetica, sans-serif; font-size: 11px; line-height: 17px;">12 Volt Sealed Beam, Rubber Grommet

Wiring:

style="font-family: Verdana, Arial, Helvetica, sans-serif; font-size: 11px; line-height: 17px;"> Sealed Harness Modular Plug In 

Mud Flaps:

style="font-family: Verdana, Arial, Helvetica, sans-serif; font-size: 11px; line-height: 17px;"> Rubber Rear Only

Draft Arms:

style="font-family: Verdana, Arial, Helvetica, sans-serif; font-size: 11px; line-height: 17px;"> 3″x 4″x 1/8 Tubing

King Pin Plate:

style="font-family: Verdana, Arial, Helvetica, sans-serif; font-size: 11px; line-height: 17px;"> 1/4″ AR450 (Rocking/Breakaway)

Back-up Alarm: 

style="font-family: Verdana, Arial, Helvetica, sans-serif; font-size: 11px; line-height: 17px;">Yes
BODY
Type:

style="font-family: Verdana, Arial, Helvetica, sans-serif; font-size: 11px; line-height: 17px;"> Steel Bathtub style body for steel scrap & demolition

Floor:

style="font-family: Verdana, Arial, Helvetica, sans-serif; font-size: 11px; line-height: 17px;"> Full Wrap: 1/4″ AR450

Sides:

style="font-family: Verdana, Arial, Helvetica, sans-serif; font-size: 11px; line-height: 17px;"> 3/16″ AR450

Tailgate:

style="font-family: Verdana, Arial, Helvetica, sans-serif; font-size: 11px; line-height: 17px;"> Barndoor 3/16″ AR450

Front:

style="font-family: Verdana, Arial, Helvetica, sans-serif; font-size: 11px; line-height: 17px;"> 3/16″ AR450

Paint:

style="font-family: Verdana, Arial, Helvetica, sans-serif; font-size: 11px; line-height: 17px;"> One color urethane enamel over primed surface

Longitudinal:

style="font-family: Verdana, Arial, Helvetica, sans-serif; font-size: 11px; line-height: 17px;"> 4″x 8″x 3/16″ Tubing

Top Rail:

style="font-family: Verdana, Arial, Helvetica, sans-serif; font-size: 11px; line-height: 17px;"> 4″x 4″x 3/16″ Tubing

Side Braces:

style="font-family: Verdana, Arial, Helvetica, sans-serif; font-size: 11px; line-height: 17px;"> 3/16″

Hoist Housing:

style="font-family: Verdana, Arial, Helvetica, sans-serif; font-size: 11px; line-height: 17px;"> None – Inverted Outside Hydraulic Cylinder