MonStar Frameless Half Round Scrap Trailer
Supplementing the industry-standard Clement ScrapStar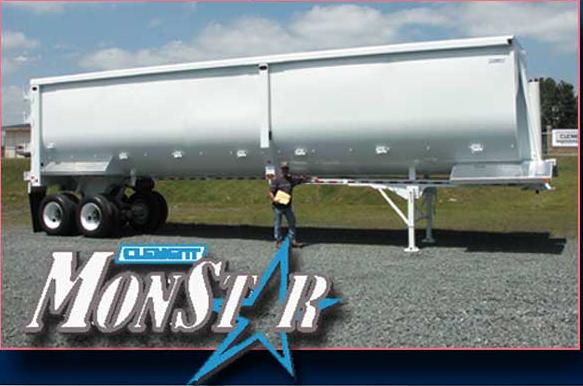 For more than 50 years, professional haulers have looked to Clement for profitable solutions to their hauling problems. At 40 feet in length with an 89-cubic yard capacity, Clement's MonStar is the largest dump trailer built, and a fine supplement to the industry-standard Clement ScrapStar. Haulers looking for strength and maximum payload in a high-cube trailer can count on 1/4-inch, AR450 plate steel in the mainbody; yet Clement has reduced trailer weight by utilizing a longitudinal-free trailer design. Other features include 102-inch sides, a barn door tailgate, plus an inverted cylinder for trouble-free operation. Haulers who need to supplement their workhorse ScrapStars should consider the stable, high-cube, super-strong MonStar half-round.
Premium Components are standard on the ScrapStar because money is made on the road, not in the repair shop.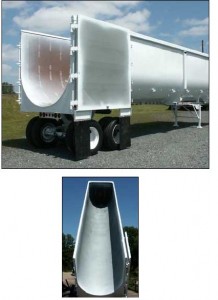 MonStar's mud flapsare attached to the super-strong barn door tailgate that swings out of the way during dumping. The rear light are also protected in a recessed light box, out of the way when the trailer is dumped Wide-range draft arms and "102-inch axles, MonStar has surprising stability. See for yourself. As MonStar is raised, the load's center of gravity get lowered, so that by the time the trailer is completely elevated, the rear bumper is only inches from the ground, maximizing stability.
Extra Value, a firm foundation

Building a trailer is a lot like building a house. Put as much strength possible in the foundation and the structure will be strong and it will last! With every trailer we start with 25,000-lb., 102-inch wide track axles, with parallel spindles and common inner and outer bearings that greatly increase both bearing and axle life. A heavy-duty 50,000-lb. Center- point suspension is another Clement standard, or if the buyer prefers, 50,000-lb. Air ride can be specified. Hub-piloted wheels have no inner nuts and all nuts have right-hand threads, plus there are only 10 nuts instead of the usual 20. This reduces both maintenance time and cost. None of our competition has a stronger foundation than the one that's standard on every Clement trailer, and few even come close.
Extra Value, inverted cylinder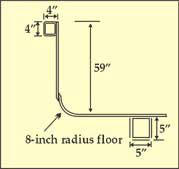 With an inverted cylinder, there's no doghouse, which means a free flow of material. An inverted cylinder has no ledges to collect dirt, water and ice, so the cylinder packing remains clean with no dirt pulled into the system. In an inverted cylinder, oil lays on the seals when the trailer is not in use, keeping the seals lubricated to prevent dry-out and cracking. To add extra value, the cylinder is stabilized with a rubber bumper, materially reducing the wear on the trunnion pins. Exclusive on Clement!
SPECIFICATIONS
Frameless Steel Half Round Tandem End Dump1/4-inch AR450 steel body and tailgate, 3/16" headboard
40-foot inside length
102-inch sides for 89 cubic yards 3/16"x 4"x 4" top rail
Barn door tailgate
Mud flaps attached to the tailgate Rear fenders of aluminum
tread plate
2 speed legs attached to draft arms Wide-angle stabilizer arms
Combination break-away/non
break-away hoist shaft
Dumps with wheels on the ground thru 41 degrees
Inverted 85-280T hydraulic cylinder
50,000 lb. center point suspension
3/4-inch wall trunnion tube 25,000 lb. axles, 102-inch
wide track
Same size inner and outer wheel bearings
Hub-piloted wheels
8.25 x 24.5 10 hole 11R 24.5 radial tires
Outboard brake drums
Weight: 20,615 lbs.
WABCO ABS brake
system — 2S-1M
Acrylic urethane paint
Hub-piloted wheels
8.25 x 24.5 10 hole 11R 24.5 radial tires
Outboard brake drums
Weight: 20,615 lbs.
WABCO ABS brake system — 2S-1M
Acrylic urethane paint