Demostar Frameless End Dump Demoliton Trailer
The Tough-as-Nails Demolition Trailer that you Would Expect from "America's Leader"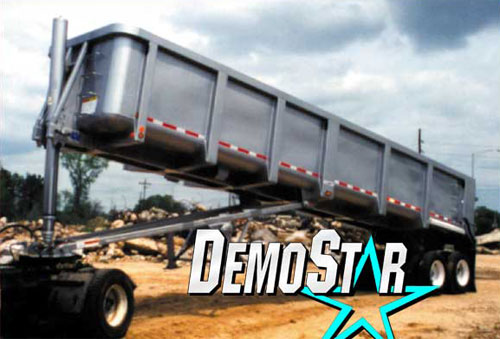 Designed to perform with rugged efficiency, the DemoStar handles a wide variety of demolition materials. DemoStar's classic Clement Bathtub body of abrasion-resistant AR500 steel is rugged, yet designed to minimize weight while handling the really tough loads. A recognizable characteristic of Clement's bathtub design is longitudinal braces that efficiently support the body. Absent are weight-adding cross members found in older, less efficient designs. Clement's Bathtub performs so well, it's the most imitated body design in the country.
A rugged new demolition trailer with extra, added value
Extra Value, AR500 steel
Using the extra strong AR500 steel, Clement offers the highest strength-to-weight ratio in the industry.
Extra Value, crowning touch
That deep lustrous shine on every trailer is pretty. But it's real function is to protect the steel from corrosion. The high quality urethane paint used in combination with a rust resisting undercoat, is designed to do just that! Another example of going the extra mile to provide the utmost value for the demolition contractor
Extra Value, a firm foundation

Building a trailer is a lot like building a house. Put as much strength possible in the foundation and the structure will be strong and it will last! With every trailer we start with 25,000-lb., 102-inch wide axles. Then the axles with parallel spindles permit common inner and outer bearings greatly increasing both bearing and axle life. A heavy duty 50,000-lb. Center point suspension is another Clement standard, or if the buyer prefers, 50,000-lb. Air ride can be specified. Hub-piloted wheels have no inner nuts and all nuts have right-hand threads, plus there are only 10 nuts instead of the usual 20. This reduces both maintenance time and cost. . None of our competition has a stronger foundation than the one that's standard on every Clement trailer, and few even come close.
Extra Value, Inverted Cylinder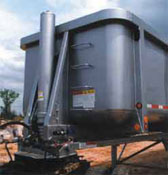 With an inverted cylinder, there's no doghouse, which means a free flow of material. An inverted cylinder has no ledges to collect dirt, water and ice, so the cylinder packing remains clean with no dirt pulled into the system. In an inverted cylinder, oil lays on the seals when the trailer is not in use, keeping the seals lubricated to prevent dry-out and cracking. To add extra value, the cylinder is stabilized with a rubber bumper, materially reducing the wear on the trunnion pins. Exclusive on Clement!
SPECIFICATIONS
DemoStar Steel End-Dump
Demolition TrailerFloor: 1/4-inch AR450
Sides: 1/4-inch AR450, 62-inch height
Tailgate: 1/4-inch, AR450, barn door
Nose: 3/16-inch, AR400
Longitudinals: 4 x 8 x 3/16-inch tubing
Top rail: 4 x 4 x 3/16-inch tubing 3/16-inch side braces
Center of Kingpin-to-rear axle: (431") 37-foot inside body length 38-feet,
8-inches overall trailer length 62-inch sides for 50-cubic yard capacity
Hoist: Inverted 85-280T
Axles: (2) 102-inch, 25,000-lb., 5-inch round Meritor with common inner and outer bearings
Axles on ground through41 degrees
Wheels: 8.25 x 24.5, 10-hole hub-piloted disc
Tires: 11R24.5 R194 Bridgestone
Brakes: Air 16-1/2 x 7-inch outboard
cast drum
ABS: WABCO 2S1M
Lights: 12 volt sealed beam, rubber grommet
Wiring: Sealed harness modular plug-in
Mud Flaps: Rubber, rear only
Draft Arms: 3 x 4 x 1/4-inch tubing
Kingpin plate: 1/4-inch AR400 (rocking)
Two speed landing gear
Rear aluminum tread plate fenders