Two Axle Steel End Dump Pup Trailer
Two Axle Steel End Dump Pup Trailer
Two-axle, End Dump, Steel Pup Trailer
Haul two loads in one trip with Clement two-axle steel pup trailer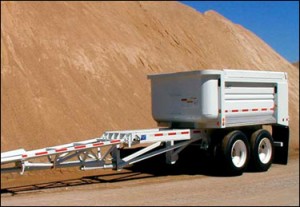 Like all Clement trailers, the bath tub design Pup Trailer offers more exclusive features than any other on the market … features that afford you more load per trip …and more trips for the life of your trailer.
Two loads in one
One truck. One driver. Two loads. The Clement two-axle steel Pup Trailer in combination with a dump truck, provides more net payload than any other trailer combination. This allows you to achieve the maximum gross weight in your state with a much larger net payload.
Dumps without unhitching, back's like a semi
Jack-knife up to 90 degrees and dump, or simply dump over the draw bar. Clement's dump and pup combo also allows for dumping under low
obstructions. The operator can lift and dump the|
pup trailer from the truck cab by means of air-operated controls. In seconds it's cocked to one side and both loads are dumped with the same hydraulic system.
Unhitch and dump
Experienced operators use Clement Pups just like a semi dump trailer or dump truck for all operations including hot mix and close quarters. Uncoupling and recoupling time is minimal compared to other costs.
Tracks True
Clement Pup Trailers follow your dump truck just like a semi follows the tractor. Your Clement Pup will handle corners and tight turns with ease.
---

Put as much strength as possible in the foundation and the structure will be strong and it will last! That's the Clement philosophy. Clement starts every trailer with 25,000-pound, 102-inch wide pro-par axles with parallel spindles that provide the proper surface for common inner and outer bearings. Bearing and axle life are both greatly increased.
Hub-piloted wheels are the final ingredient. Hub-piloted wheels have no inner nuts and
all nuts have right-hand threads, plus there are only ten nuts instead of the usual twenty. This reduces both maintenance time and costs. None of our competition has a stronger foundation than the one that's standard on every Clement trailer, and few even come close.
No washboarding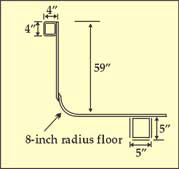 The 1/4 inch, AR400 steel full wrap floor is welded over 4 X 8-inch longitudinals with no cross members. This eliminates floor washboarding and premature floor wear. AR400 steel has    nearly 3 times the strength of the hi-tensile steel used in other makes of trailers.
The crowning touch
That lustrous shine on every Clement trailer is produced using Clement's new, advanced painting system.
Dubbed "the paint of the future," it's a two-part urethane that's applied after the  trailer's had a corrosion-reducing phosphate wash and an    epoxy primer. The result is a lustrous, long lasting shine.
---
SPECIFICATIONS
CLOSED TANDEM PUP TRAILER
CHASSIS
Frame: 4x8x3/16-inch reinforced with 1/2×3/8- inch flatbar
Drawbar: 3 cord truss (3x3x1/4-inch) spring ride hinged
Drawbar Eye: Rubber Bushed
;Suspension: 44,000 # 4-Spring, 8 Leaf
Axles: (2) 96-inch, 25,000 lb, 5-inch Round Pro Par, Common Inner/Outer Bearings
Wheels: 8:25 x 24.5, 10-Hole Hub-Piloted Disc
Hubs: 10-Hole Pilot Hub
Tires: 11.00 x 24.5 Radial
Brakes: Air 16-1/2 x 7-inch Cast Drum
ABS: 2S 1M
Axle Spacing: 49-inch
Lights: 12 Volt Sealed Beam, Rubber Grommet
Wiring: Sealed Harness Modular Plug in
Mud Flaps: Rubber Rear Only
Jack: On drawbar
Back-up Alarm: Yes
Rear Impact Guard: Yes
BODY
Type: Steel bathtub style dump for dirt, asphalt or       general construction work
Floor: 7 Gauge HT50
Sides: 10 Gauge HT50
Tailgate: 10 Gauge HT50, Top hinged air lock w/line to front
Front: 10 Gauge HT50
Paint: One color urethane enamel over primed surface
Longitudinal: 4″ x 6 " x 3/16″ Tubing
Top Rail: 4″ x 4″ x 3/16″ Tubing
Side Braces: 10 Gauge HT50 fabricated channel
Hoist Housing: None -Under Body Hoist
Inquire About Our Two Axle Steel End Dump Pup Trailer
Fill out your information below and we'll respond promptly to give you more information about our Two Axle Steel End Dump Pup Trailer.