Four Axle Aluminum Pup Trailer
Four-axle, End Dump, Aluminum Pup Trailer
Extra payloads and profits with Clement four-axle aluminum pup trailer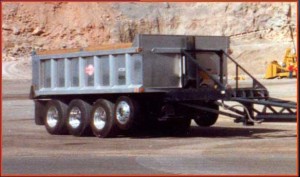 Sronger yet lighter for extra payload

Clement's exclusive uni-beam aluminum bodies provide the greatest strength to weight ratio. With Clement's design, the massive top rails, bottom rails and side braces constitute the longitudinal support beam of the structure. The body sheet adds additional strength to the supporting structure.
What is Uni-Beam?

In it's simplest form, "uni-beam means locking the side sheets into a beam formed by the supper strong, rear double beam cross member figure 1); the side sheets (figure 2); and the headboard at the nose. The body is then bolted to the sub-frame at the rear cross member and at the front to an 8" beam (figure 3) giving the total structure tremendous "strength to weight ratio" eliminating the need for longituditinals and reducing tare weight. Finally, cross members made of exclusive 4" x 5" "U" shaped channel

extrusions on 16" centers lend support to a 1/4" floor, all providing a sturdy body structure. This exclusive Clement design offers you the maximum payloads with greatest strength for minimum downtime. For profit on the big hauls and steady day-in and day-out operation, Clement's aluminum trailers are your best buy. img src="../images/clement_trucks/aluminumpup_trailer5.jpg" alt="pup aluminum trailer design" width="280″ height="150″ align="left" hspace="5″ vspace="5″ /> Clement's patented three-cord tubular drawbar design pivots over bumps and holes. Wheel contact at all times is ensured by the drawbar's "spring flex" action. With "spring flex," the PupStar can move over rough terrain without breaking or bending the frame. Turnovers are virtually eliminated and the ride is much smoother.
Building a trailer is a lot like building a house.

Put as much strength as possible in the foundation and the structure will be strong and it will last! That's the Clement philosophy. Clement starts every trailer with 25,000-pound, 102-inch wide pro-par axles with parallel spindles that provide the proper surface for common inner and outer bearings. Bearing and axle life are both greatly increased. Hub-piloted wheels are the final ingredient. Hub-piloted wheels have no inner nuts and all nuts have right-hand threads, plus there are only ten nuts instead of the usual twenty. This reduces both maintenance time and costs. None of our competition has a stronger foundation than the one that's standard on every Clement trailer.