West Coat Trains Steel Bottom Hopper
Engineered to provide an optimum return on your investment!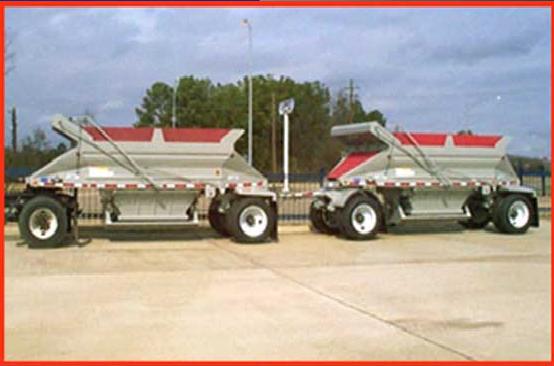 Big, rugged hoppers ideal for general contracting
Ideally suited for general contracting These big, rugged Clement Monoshell hopper trains carry a total of 20.5 cubic yards. Hi-tensile, all-welded Mono-Shell construction means greater durability … less dead-weight. You haul bigger legal loads of aggregate, sand, fill … and dump them faster. Built to take the abuse of rough loading, Clement Mono-Shell trains are equipped with air-powered clam shell gates. Dumping is quick … cleanout complete. Only the Clement Monoshell gives you … Biggest Payloads — Mono-Shell design takes weight out of the equipment … puts it in the payload. • Faster Operation — No cross bracing to slow up loading … no interior projection. Steep, smooth sides mean faster, complete cleanout. • Lowest Maintenance — Clement engineering combines simplicity and ruggedness in a field-tested, customer-proved design • Longer-Life — The stronger, lighter mono-shell design combined with exclusive stress-flex mounting eliminates the rigidity of truss-frame trailers.
The Monoshell's air-powered gates meet your every requirement

Clement's air-powered clamshell gates work faster, permit on-the-go discharge. Actuated by large, twin 6-inch double-acting cylinders, gates can be stopped and held at any position … readily closed against the load. The dumping rate is controlled by opening the gate to any desired position … spreader chains positively position the gates for laying windrows. Just one valve opertes the air-powered gate. The valve is located conveniently at the side of the body. Optional in-cab controls permit the gate to operate from the cab or the trailer. Meets all ICC regulations … safety regulator maintains brake pressure under emergencies.
A lighter, stronger Mono-Shell design
A stronger, lighter Mono-Shell design combined with the exclusive stress-flex mounting eliminates the rigidity of truss-frame hoppers. This "designed-in" flexibility means mono-shell hoppers roll with the punch … they absorb the stress and abuse of rough loading and uneven terrain.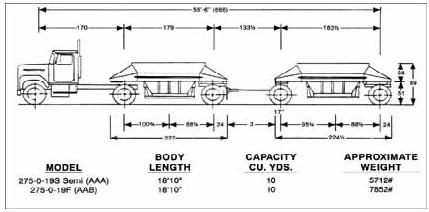 General Specifications
Chassis
Suspension: 22,000#
Axles: (2) 22,500#
Whells: 8.25 x 24.5 Disc
Tires: 11.00 x 24.5 Bias
Brakes: Air 16-1/2 x 7 inch Cast     Drum
Lights: Sealed Beam, Turn signals rear     both trailers
Wiring: Sealed Harness 7 wire    ATA, Sep. Gate Circuit
Mud Flaps: Rear Only
King Pin Plate: 1/4-inch    HT50- Fixed
Turn Table: 39-inch Double    Ballbearing
Pintle Eye: Swivel
Draw Bar: Tubular, Rubber Bushed hinge
Body
Type: For windrowing aggregates, dirt, base or any granular free flowing material work
Design: Monoshell
Upper Skins: 14 Gauge HT50
Lower Skins: 12 Gauge HT50
Gate Throat: 3/16-inch HT100
Gate Plate: 3/16 gauge HT100
King Pin Location: 14-inch (Max tractor 5th wheel 8″)
Paint: One color urethane over cleaned, phosphatized and primed surface
Slopes: side-70 end-55
Ground Clearance Undergate: 17-inch open – 14-inch closed
Discharge Gate: One 44 x 69-inch air powered clambshell adjustable spreader chains, twin 6-inch air-cylinders
Air Reservoir: 6,800 cubic in.
Gate Controls: Side body    mounted neutral hold, hand or    electric operated