JobStar Steel Bottom Hopper Dump Trailer
Engineered to provide an optimum return on your investment!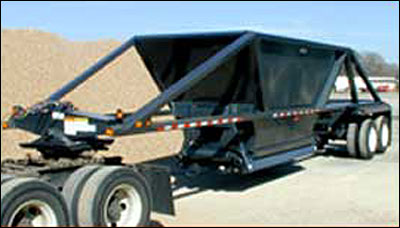 Clement utilized computer "finite element analysis (F.E.A.)" to develop an extremely strong, relatively light weight dump trailer that was quite simple to manufacture. The results of which offer the customer a "workhorse trailer" and long life at a reasonable price.
Evidence of the strength built into the dump trailer are the 3/16″ HT50 high tensile steel side sheets assuring extended life expectancy when compared to other trailers. Supporting these heavy duty side sheets are two massive 4″ x 6″ tube bottom rails with 4″ x 6″ bracing.
Another innovative feature built into the Clement is utilizing the bottom rails as our 80 gallon air tank for the gate, eliminating cost and weight.
Finally as with all Clement dump trailers, our foundation is strong and stable with 102″ 25,000 pound axles; common inner and outer bearings; a 40,000 pound four-spring suspension as standard with 50,000 pound single point as an option.
THE NEW CLEMENT JOBSTAR… LOADS FAST, HAULS MORE, DUMPS DEPENDABLY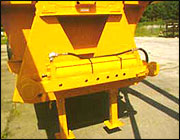 JobStar's Clamshell gate
Front view of JobStar's extremely strong clamshell gate, closed with its massive externally mounted 8pinch diameter cylinders.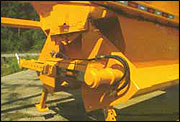 JobStar's extra heavy-
duty timing gear
Front view of the extra heavy-duty timing gear that never needs replacing, adjusting or maintenance. Also illustrated is the positive five-position gate positioning bar.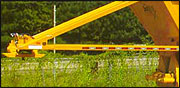 JobStar's 80-gallon
air tank in the bottom rail
Clement's innovative air tank eliminates the weight of an extra tank. At the same time it provides an early warning in the event that this vital member is damaged and requires immediate repair.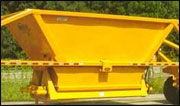 The muscle of the JobStar –
the hopper
The hopper with 3/16-inch Hiten-50 steel as standard is nearly double that of competitive units, thus you get double the wear. As an option, 3/16-inch AR450 abrasion resistant steel is available to further increase the life of the trailer.

Infinite Gate Control
Clement's gate control ground station puts total infinite metering control into the hands of the ground operator. JobStar's ground control also allows total hands-free operation not available on most competitive trailers. Pushing the palm button activates Clement's hands-free infinite gate control, or to stop the gate at an infinite number of positions by centering the lever. Once the lever is positioned, the operator may remove his hands for a total hands-free operation! Last, but not least, is hands-free feathering.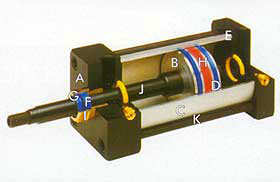 Clement Air Cylinder Cross Sections and Features
A. Solid aluminum head and cap and black anodized for corrosion resistance.
B. Piston machined from solid aluminum bar stock
C. Hard anodized ID aluminum tube
D. Lip-type low friction urethane piston seals are pressure-energized.
E. Nitrile O-ring design is pressure compensated and reusable.
F. Rod lip seals with a rod u-cup is completely self compensating for zero leakage at all pressures.
G. The new wiper wipes dirt out for less maintenance.
H. Piston wear ring is nylon material designed for low friction, and to ensure maximum wear in the cylinder.
I. Bronze gland is externally removable without cylinder disassembly for easy maintenance.
J. Piston rod high steel. Nitrocarburizing treatment on the rod gives better corrosion-resistance properties (outperforms 12-micron (.0005 inches) Chromium electroplating by ratio up to 20:1).
K. Tie rods have corrosion resistant (Nitro carburizing)., stress proof steel.
SPECIFICATIONS
Cubic Yard Capacity:
20 yards, no boards
22.5 with boards
Dimensions:
40 ft. overall length, w/o push bar
102-inch overall width
114-inch height w/o boards
193 x 90-inch hopper opening
111 x 55-inch gate opening
Ground clearance under gate:

17-inches w/ 24.5-inch tires
16-inches w/ 22.5-inch tires
Body:
3/16-inch hopper skins throughout
79° hopper side slope
55° hopper end slope
90° slope lower hopper
4 x 6-inch bottom rail
4 x 6-inch top rail and braces
Rear fenders standard
Gate:
3/16-inch high tensile steel floor
8-inch externally mounted cylinders
80-gallon air tank in bottom rail
Infinite gate positioning and feathering control
Automatic injection air lubricator
Electrical:
Sealed beam, 7-way conduit in rubber grommets
Separate gate circuit
Running gear:
Axles: 102-inch – 5-inch round 25K capacity
Bearings: Common inner and outer
Suspension:

Std: 44,000#, 4 spring – 3 leaf
Opt: 50,000# single point

Wheels: 10-hole hub piloted disc, 8.25 x 24.5
Brakes: 16-1/2 x 7-inch fast change
Drums: Outboard cast
Tires: 11R 24.5 radials
ABS: 2S – 1M standard
Paint:
Premium epoxy primer. Urethane finish for excellent durability
Weight:
12,900 pounds with 4-spring