ADW Double Wall Aluminum End Dump Trailer
Clement ADW 24-Ft. – 39-ft. Aluminum Double-Wall End Dump Trailer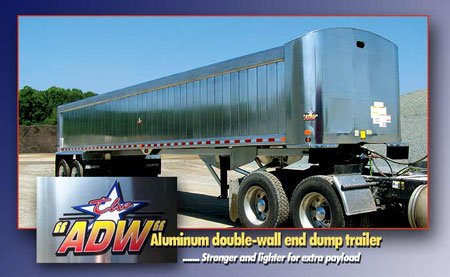 Stronger yet lighter for extra payload
Frameless for maximum legal payloads
Greater built-in strength and the superior design of clement's aluminum bodies make them ideal for frameless trailer applications. Here is the maximum in legal payloads with long end dump trailers.
ADW is available in frame and quarter-frame models
The Clement ADW is offered in both frame and quarter-frame models where those applications are desirable.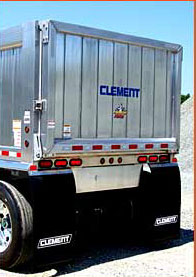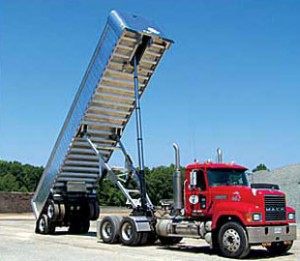 Clement's exclusive uni-beam aluminum bodies provide the greatest strength to weight ratio. With Clement's design, the massive top rails, bottom rails and side braces constitute the longitudinal support beam of the structure. The body sheet adds additional strength to the supporting structure.
What is Uni-Beam?

In it's simplest form, "uni-beam means locking the side sheets into a beam formed by the supper strong, rear double beam cross member figure 1); the side sheets (figure 2); and the headboard at the nose. The body is then bolted to the sub-frame at the rear cross member and at the front to an 8" beam (figure 3) giving the total structure tremendous "strength to weight ratio" eliminating the need for longituditinals and reducing tare weight.
Finally, cross members made of exclusive 4" x 5" "U" shaped channel

extrusions on 16" centers lend support to a 1/4" floor, all providing a sturdy body structure. This exclusive Clement design offers you the maximum payloads with greatest strength for minimum downtime. For profit on the big hauls and steady day-in and day-out operation, Clement's aluminum trailers are your best buy.
SPECIFICATIONS
Type: Smooth side, double wall aluminum body for sand, gravel, coal, hazardous waste and aggregates
Floor: .250-inch 5454-H34 aluminum with 12 x 50-inch 5454-H34 in the rear
Sides: 10-inch 6061 aluminum double wall (.190 inside, 1/16-inch outer skin) extrusions welded inside and out for strong, water-tight body.
Front: .250-inch 5454-H34 aluminum with radius corners
Top Rail: 4-1/2 x 9-inch extrusion with dirt shedding top, 6061-T6
Bottom Rail: 3-1/2 x 8 inch x45 degree slope, 6061-T6. Includes radius corner from floor to side.
Rear Post: 4 x 9-inch extrusions, 6061-T6
Cross Members: 3-1/2 x 8-inch x 45 degree slope, 6061–T6 extrusions with 1-inch offset for maximum floor support.
Tailgate: framed double wall, rubber sealed, air-locked with cab connection at front.
Suspension Subframe: non-welded, totally huck-bolted to assure maximum integrity.
Draft Arms: Wide-angle 3 x 5 x 1/4 inch aluminum tubing.
King Pin Plate: 1/4 inch AR400 steel, breakaway/rocking.
Hoist: 30-ton capacity
Suspension: Ridewell Ridelite standard, Hendrickson Intraax, optional.
Axles: (2) 5-inch round, 5/8 inch wall, parallel spindle for common inner/outer bearings for maximum life.
Wheels: 8.25 x 24.5 steel disc, 10-hole hub-piloted.
Hubs: 10-hole piloted Dura-Life
Tires: 11R 24.5 Radials
Brakes: 16-1/2 x 7 inch outboard centrifuse drums
Lighting: Sealed harness, LED lights
ABS: 2S-1M