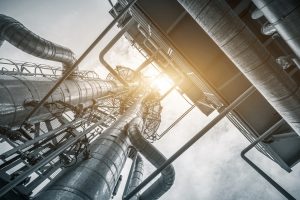 The U.S. Energy Information Administration has reported an increase of 1,003,000 barrels per day (11.8%) year-over-year from 2016, reaching an all-time high for domestic oil production and a significant rebound from the low four years prior. Crude oil prices have been increasing throughout 2017, bolstering the market, as demand has continued to rise and production in other countries has slowed.
U.S. Oil Production is on the Rebound
U.S. oil production reached a high of 9,600,000 barrels per day in June of 2015, which was caused by better oilfield technology and increases in hydraulic fracturing. But through 2016 crude oil production fell to 8,428,000, which was the lowest level since the initial oil market crash in June 2014. Oil production was reduced in part because the market was being flooded by cheaper oil options, which had artificially lowered the per barrel prices and made it more difficult for domestic companies to be profitable. As these artificially lowered prices proved to be sustainable, the market has been quickly recovering. It's estimated that US oil production will likely average about 9,920,000 barrels per day in 2018, which will be a new all-time high. Averages were 9,400,000 in 205 and 8,860,000 in 2016.
An All-Time High of 9.62 Million Barrels Per Day
In November of 2017 crude oil production was reported at 9,620,000 barrels a day, 20,000 higher than the record all-time high in June of 2015. American oil output has been somewhat erratic in the past few years due to the impact of the global oil and gas economy, energy regulations, and the overall economy. With a strong economic backing, more reliance upon oil for energy, and stronger global positioning, the industry is poised for solid and reliable growth. U.S. shale drillers are the driving force behind this move, as shale drilling has been able to provide affordable crude oil to the domestic and global markets without excessive cost. This has enabled a reduction in overall energy costs (and an improvement in the economy) while still maintaining a profit. Other countries, with more conventional oil extraction methods, have not been able to keep up with the sheer volume of affordability of shale oil.
Oil Companies Likely to Continue Increasing Spending
Oil companies in the North American market have been increasing their spending since the final quarter of the last year, and are likely to continue investing in the market as it grows. This increase in spending has additionally been seen in increased production, which has bolstered independence from foreign oil sources. This is additionally a result of the end of OPEC overproduction, as North American companies are now moving to fill the gaps that have been left by the artificially high supply. As this supply is not likely to come back (especially at such low prices), the North American energy industry is likely to continue to grow.
An all-time high for oil production is exactly what the country needs for a better economic future and a better energy outlook.  Companies in the oil and gas industry are now seeking growth, as the market has stabilized and prices are rising. Since 1925, Tiger General has been offering only the best in oil field equipment: simple, affordable, and American made. Contact Tiger General today to look at their inventory.