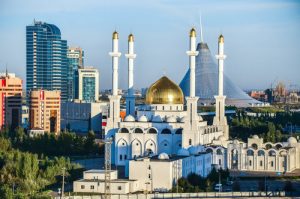 Production has recently begun in the Kashagan field, located within Kazakhstan in the Caspian Sea. Currently producing 90,000 barrels per day, the Kashagan field will be exporting crude oil and natural gas out of the country. The field is currently being managed in joint effort between a multitude of energy companies, including both Exxon and Shell.
The Kashagan Field Is Finally Entering Production
The Kashagan field has been in development for nearly 20 years. It has additionally cost its investors over $50 billion over the past two decades. The Kashagan field is the largest oil reserve in Kazakhstan discovered within the past 40 years, containing within it nearly 40 billion barrels of crude oil. Additional natural gas reserves may reach up to a trillion cubic meters. It's believed that a total of 10 billion barrels of crude oil may be able to be recovered through existing technology, though advances in oil recovering technology could increase this amount.
After its two years of development, Kashagan is now beginning to export. Though oil prices are still down, investors are optimistic in the future of crude oil and natural gas. The demand for crude oil is still growing throughout the globe, ensuring that demand will remain stable. If Kashagan field can turn a profit in the current climate, the revenue will only grow as the oil and gas prices begin to rebound.
Problems Facing the Kazakhstan Oil Field
Kazakhstan's oil field has faced some considerable challenges over the last two decades of development. Not only has the country had to contend with sub-$40 per barrel prices, but the oil field itself has encountered some issues. In September of 2013 production within the Kashagan oil field had first begun. However, the production at the field had to be concluded following pipeline defects. Only a few weeks of production occurred during this time.
Pipeline defects are not only dangerous for workers, but they can also be dangerous for the environment and inefficient for the company. It has taken three years for the oil field conglomerate to completely address the issues with the pipeline. Further, the organizations in charge of the Kashagan oil field may also have been waiting for oil and natural gas prices to begin rising again. Oil and gas prices began rising mid-2016 and have continued to increase; it's expected by many experts and analysts to continue improving through 2017.
Kazakhstan's Oil Production Grows in Wake of Improved Prices
Kazakhstan is a considerable oil producer, ranking 18th within the globe and measuring in as the largest oil producer of the Central Asia region. In total, the country produces over 1.7 million barrels of crude oil per day. In recent years, this oil production has slowed down, potentially due to the lowered cost of crude oil. With the advances made in the Kashagan field, it is possible that production will now begin to increase.
As with many domestic companies, Kashagan is suffering from lowered oil and gas prices. Kashagan is a non-OPEC nation, and is thus vulnerable to the price-fixing that has occurred between OPEC countries, specifically Saudi Arabia. Oil and gas companies today need to rely upon the strength of their organization and their equipment to weather the current economic environment. Tiger General, LLC has been providing high quality, well-supported equipment for the oil and gas industry since 1925. Contact Tiger General, LLC today to learn more about their wide inventory of oil field equipment.