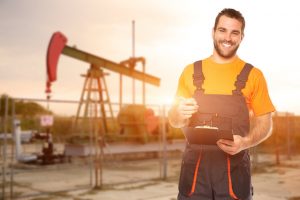 Oil and gas isn't for everyone. As illustrated in an article in Oil Price, it can be dirty, difficult and dangerous. However, if can also be a very rewarding career path for millenials. It can be tough to break into a lucrative career right out of college, but oil and gas can,  and should be, a rewarding long term option for millenials looking for a great career.
Oil and gas companies around the country are aware of the benefits to having millennials join their workforce. In fact, they're  making a big play to attract and hire millennials. According to Bloomberg, many companies are trying hard to persuade millennials to join the oil and gas industry.
Here's the exact quote from a commercial that ran last summer:
"This ain't your daddy's oil," the commercial proclaims, cutting to shots of spray paint being made and a wall covered in fanciful graffiti. "Oil strikes a pose. Oil taps potential. Oil pumps life."
The article goes on to proclaim how industry executives are insisting that oil is cool. It's a strong play by executives targeting 21 to 35 year-olds, considering individuals in that age range make up the majority of today's workforce.
The tough part
Unemployment rates are relatively low, and millennials tend to flock towards tech and engineering firms. However, educating millennials on how a high-paying job in the oil and gas industry can benefit them is a great idea. However, it won't be easy. According to a study by Bloomburg, just 2-percent of millennials surveyed listed oil and gas as their first choice industry to join out of college.
The benefits
It's no secret oil and gas jobs pay well. However, they tend to be riskier than a nine-to-five job in a cubicle. Today's millennials are concerned about Salary, work-life balance, and job stability. The old saying goes, list three things that mean the most to you and pick two. Oil and gas is a changing industry and nearly check all three boxes for the majority of the millennials about to join the workforce.
It's not a stretch to say you can make a great salary, have an above average work-life balance while also having great job stability.
Speaking of Stability
The oil and gas industry, like many other industries, has many openings. By shifting the message, oil and gas companies are hoping more millennials will understand that and see just how lucrative a career in oil and gas can be.
Competing with tech
Many raise a great point. It's much harder to convince a millennial to work for an oil company than it is to convince them to work for Apple, or Tesla, or another tech giant. The persuasion will get much and much easier if the oil and gas industry continues to adapt and educate all people (not just millennials) on the advantages of a career in oil.
For those already in oil and gas…
At Tiger General LLC, we've been supplying oilfields with top quality trucks since 1925. Not only do we provide the best available quality of both new and used winch trucks and other equipment, we also provide stellar after-sale support for all of our customers. Please feel free to contact us at your convenience for more information on getting the winch truck that best suits your individual needs and preferences.