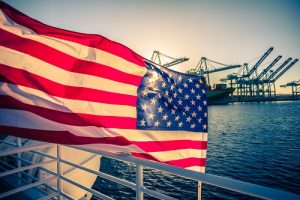 It's hard to ever imagine the United States without oil and gas. We use gas and oil to heat our homes; we use petroleum distilled from oil to run our vehicles and various light machinery; and we use oil and gas to power our cities. In fact, I can't imagine what our world would be like if we had no oil or gas. Our nation depends on it, which is why I provide the best oilfield trucks for those men and women who work our oil and gas fields.
The Impact of the Oil and Gas Industry to the US Economy: By the Numbers
The oil and gas industry is important to keeping America employed and in keeping our nation great. According to a PriceWaterhouseCooper LLC report, some 10.3 million Americans have jobs that are directly in, or support, the US oil and gas industry. Furthermore, an additional 2.7 million jobs could not exist if it weren't for this industry. That equates to 5.6 percent of the nation's total employment. And those people who have jobs in the oil and gas industries bring home a combined $714 billion dollars. That's a lot of money that keeps our nation strong.
If we consider the overall benefit to the US economy, oil and gas brings in $1.3 trillion dollars, or about 7.6 percent of the US Gross Domestic Product or GDP. That's 7.6 percent of what our country as a whole makes, incredible as it seems.
How Oil and Gas Prices Affect the Economy
Oil and natural gas are a commodity. That means it must be produced either through mining or growing, agriculturally speaking. Because it relies on things such as where we get our oil and gas, the cost of extraction and processing, the methods used to obtain it, the amount produced, and other factors such as taxes and tariffs, causes the price to fluctuate considerably.
These prices have a direct effect on transportation: such as the cost of fuel for your car or a plane ticket. But the effect doesn't stop there. Production, manufacturing, and shipping of goods often require energy in the form of oil products and natural gas, so when the cost of oil and gas goes up, the price gets passed onto the consumer in various forms: whether it is the cost of a taxi cab,  an airline ticket, fruit and vegetables , or that nifty new smartphone you're reading this post on.
Ready to take the next step? Give us a call!
At Tiger General LLC, we've been supplying oilfields with top quality trucks since 1925. Not only do we provide the best available quality of both new and used winch trucks and other equipment, we also provide stellar after-sale support for all of our customers. Please feel free to contact us at your convenience for more information on getting the winch truck that best suits your individual needs and preferences.