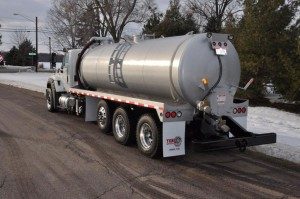 Vacuum trucks are a big investment. But it's a necessary investment. As with all big vehicular investments– or even your own personal vehicle – regular maintenance is a must and goes a long way in ensuring  it runs smoothly, efficiently and for as long as possible.
Maintenance on a vacuum truck, however, is much more than changing your oil every 3,000 miles. There are different periods of time throughout the year where specific maintenance must be done. Certainly, vacuum trucks aren't designed for your daily commute; they're designed for heavy-duty work, and if you forget or delay regular maintenance, it can cost you a ton of money.
Daily Tasks
Properly shut down at the end of the day – more than just taking the keys out of your car after work

Open up the drain valves

Make sure systems are free of water
If you're working in a colder climate, it is even more important to make sure all of your systems are free of water. If there is fluid remaining and it freezes, it will cause serious damage to your vacuum truck.
Monthly Maintenance
Check fluid levels

Check air breather

Clean the debris body

Inspect the air and water separator cyclone unit

Check the electrical wiring
All of these are important, but checking your fluid levels monthly is incredibly important. If you notice any of these levels are low, be sure to fill them back up quickly. If they're consistently low, you may have a leak. And ff you have a leak, get it fixed right away.  
Annual Maintenance
Change hydraulic filters

Flush the hydraulic system

Change fluids

Clean out the body and add a new coat of primer
Early maintenance is just as important as daily and monthly maintenance. Changing your hydraulic filters yearly allows you to properly drain all of the fluid from the hydraulic tank and fluid reservoir. Just remove the drain plug. hen everything has been drained and filled with fresh fluid, put it back on tightly.
If you're storing your truck for the winter, it's absolutely imperative to clean out the body of the truck and give it a fresh coat of primer. This helps cut down on moisture and helps avoid corrosion. Winter climate is tough on a vacuum truck. Yearly maintenance is crucial for individuals in tough climates.
Give us a call
At Tiger General LLC, we've been supplying oilfields with top quality trucks since 1925. Not only do we provide the best available quality of both new and used winch trucks and other equipment, we also provide stellar after-sale support for all of our customers. Please feel free to contact us at your convenience for more information on getting the winch truck that best suits your individual needs and preferences.