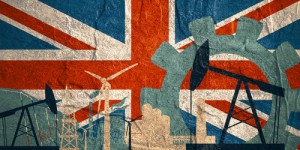 North sea oil production is currently on the rise, and this could have some tremendous benefits not only for the global oil market but also the domestic economy. From 2015 to 2016, the oil production in Scotland has risen by 21.4%. As with many countries in the oil industry, Scotland has had to dramatically increase its oil production in order to compensate for the reduced oil prices. This increase in oil production has led to more oil field development, additional jobs, and more available domestic oil.
The United Kingdom Now Has a Plentiful Source of Energy
Scotland is presently accounting for 81% of the oil production in the UK, making Scotland more valuable and also ensuring that the UK's domestic oil production remains stable. Domestic oil production is incredibly important to the union, as well as any other country's economy. Domestic oil production means that countries do not have to negotiate higher oil prices with foreign powers, freeing them politically to make decisions that will best serve their citizens. Furthermore, domestic oil production drastically reduces the living costs throughout a country, thereby improving upon overall quality of life and commerce.
Better, More Efficient Production Will Be Developed
Scotland is estimated to be producing £13.4 billion in oil through 2016. But that is a reduction of 23.5% from the prior year. Oil has decreased in value throughout the world as many countries have begun using advanced hydraulic fracturing methods to secure larger supplies of the necessary resource. Oil prices are expected to stabilize in the future, however, especially as oil and natural gas continue to replace other, more harmful, energy sources. The demand for oil is also ever-increasing, as many countries are developing and growing their populations. Eventually, hydraulic fracturing methods will become more efficient, reducing overhead costs and letting companies improve upon their revenue without slowing their yields.
Proving the Strength of the Oil Market
Because of the lower oil cost, it was expected that North Sea oil production would suffer significantly. The fact that it hasn't is proof of the general resiliency of the oil market. The United Kingdom expects that it will not be overly impacted by lower oil costs, providing an excellent test case for oil and gas markets across the globe. Though oil prices may have been reduced, the need for oil continues to steadily grow.
The United Kingdom has had a notoriously difficult year economically, and the North Sea oil production is one of the rare areas in which the country is currently being propped up. Through continued North Sea oil production, Scotland and the UK are remaining economically viable in terms of their energy usage. As energy demands in the United Kingdom increase, the production of oil will hopefully continue to advance. Ultimately, the United Kingdom will be able to secure a more stable economy through domestic production and potentially even oil exports.
At Tiger General, LLC, it's understood that oil and gas companies need to be more conscientious about their savings than ever before. Because of this, Tiger General, LLC offers an assortment of reconditioned and used equipment, tailored to a company's needs. Contact Tiger General, LLC today to learn more about their budget saving oil field equipment.