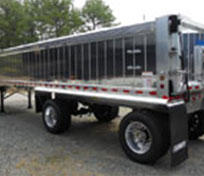 Clement has long been a worldwide leader in trailers for any and every jobsite. Combine this legacy of excellence with the service and knowledge of Tiger General, and you've got a recipe for success. We offer a number of Clement trailers that can be customized to suit your exact specifications. Keep reading to learn about some of the most popular models we work with.
Clement ADW
The ADW might just be the gold standard in dump trailers. This aluminum double-wall trailer is stronger and lighter for extra payload, leading to more efficient performance and more loads than other trailers. The ADW is ideal for frameless trailer applications, providing for maximum legal payloads. It is also available in both frame and quarter frame models where those applications are desirable.
The ADW is also constructed with maximum stability in mind. Clement pioneered the wide-angle draft arm to maximize stability, allowing longer trailer lengths while minimizing the risk of turnovers. This is achieved with a specially engineered, wide-angle draft arm and a low center of gravity to increase stability. ADWs also come equipped with the Uni-Beam. This means locking side sheets into a beam formed by the super-strong, rear double-beam cross member and the side sheets and headboard at the nose. The body is then bolted to the subframe at the rear cross member, and at the middle and front to an 8-inch beam, giving the total structure a tremendous strength-to-weight ratio. This eliminates the need for longitudinals and reduces fare weight.
Clement MonStar Scrap
For more than 50 years, professional haulers have looked to Clement for profitable solutions to their hauling problems. At 40 feet in length with an 89-cubic yard capacity, the MonStar is the largest dump trailer available, and a fine supplement to the industry standard Clement ScrapStar. Some of the MonStar's features include 102-inch sides, a barn door tailgate, plus an inverted cylinder for trouble-free operation.
The MonStar trailer provides a stable platform for tough loads. With wide-range draft arms and 102-inch axles, MonStar has surprising stability. As the trailer is raised, the loads' center of gravity is lowered. By the time the trailer is completely elevated, the rear bumper is only inches from the ground, maximizing overall stability. You get even more value out of the MonStar through its inverted cylinder. This means free-flowing material with no ledges to collect dirt, water, ice or other debris. When the trailer is not in use, oil lies on the seals, keeping them lubricated to prevent dry-out and cracking.
Explore More Tiger General Clement Trailers
These are just a few highlights of our extensive line of Clement trailers. To learn more about the ADW and MonStar Scrap, or explore more Clement Trailers, download the full flyer here. Ready to add a clement trailer to your fleet? Fill out the Tiger General Truck Inquiry Form.