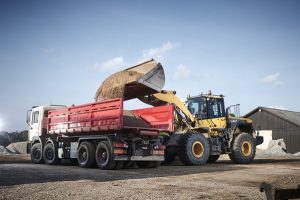 When it comes to aluminum dump trailers, you can't do much better than Hicks. They are an industry standard and have been around for quite some time. Hicks trailers rely on a totally weld-free body, meaning you don't lose any of the trailer strength. That also makes them easier to repair and, on top of that, you get a beautifully bright piece of equipment to liven up your job site.
Premium Components
Hicks aluminum dump trailers come standard with high-quality features to help you get the job done. You'll enjoy Ridwell suspension with front axle life to save you money on replacing tires and brakes. Furthermore, Hicks trailers come with custom hoist adjustable packing and thicker wall tubes to make sure you get a much longer lifespan out of it.
Round out the list of standard features are Centrifuse drums and Duralite hubs making the entire trailer lighter and much, much easier to service. The Jost aluminum crank down dollys included are also extremely light and easy to maneuver. Finally, each Hicks aluminum dump trailer comes with a Power Mesh arm tarp, standard.
Extra Benefits
On top of all of its standard, premium features, Hicks trailers are loaded with plenty of extra benefits. For one thing, you'll get an extra 1,000 lbs more payload over other aluminum dumper trailers. It's lower center of gravity means lower side heights. Furthermore, its low profile means you'll clear any and all fed bridges with more clearance than ever.
It's ultra-light construction means higher payloads. The bed is completely lined to save the trailer floor and is easy to slide out on those cold winter days. Finally, its aluminum construction means no rust or repainting necessary. The Hicks trailer will last you for a long time, saving you time and money.
Tiger General has the Hicks Trailers You Need
Ready to bring a Hicks trailer to your jobsite? Fill out the Tiger General Truck Inquiry Form today to get started on bringing your next piece of equipment to where it's needed most.