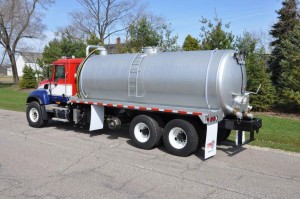 In a field that is competitive, quality tools make all of the difference. Give your business an edge with quality built and customizable vacuum trucks. Quality is defined as a product that is durably built, offers bigger payloads, and that can be made to handle the unique needs of your business. These are tools that can help your business to grow or expand.
In an online article published by Market Realist, the U.S oilfield industry is growing due to global pressures to produce more oil and petroleum products. The driving force for on-shore expansion is expected to be seen within the Fracking side of oilfield production.
1.  Amid the Disaster Blooms Economic Opportunity
Having the right equipment is a boon especially in this economic mess. If the Fracking industry takes off as expected, then having the right tools in place is going to make a difference. Those companies who have the right tools to do the job correctly will have an advantage over those companies who are not prepared for the boom. Fracking means water. Water is also one of the heaviest substances on Earth. That fact limits the volume that a water tanker or vacuum tanker can carry. Innovation is the key to overcoming the confines of water's weight. Tankers with aluminum tanks can carry more water then tankers with steel tanks. Aluminum allows for a 17% increase in payload over steel. Aluminum also minimizes chemical reactions such as rusting.
2.  Versatility: The Right Tool for the Job
Variety and Diversification is key to why Vacuum and water trucks make leaders within the industry. Dry, Wet, or both as options for vacuum trucks means that a vacuum truck that is set up to handle both will all the realization of more business for that company. With the Oilfield industry expected to grow more opportunities will become available. According to the U.S Energy Information Administration, Natural gas production is expected to grow by 12% in volume during 2014. This is in part due to fracking. Being prepared to handle both with less equipment would be an asset to small and medium sized companies.
Features are also important. Vacuum/Water trucks that are complete systems would be the first choice. Having the option to use the same cab for multiple trailers means economic savings for small and medium sized companies. Having the option to take an existing, fully owned, chassis and having a customized vacuum unit and tank built onto it would also save money for small and medium sized businesses.  Options to look for include:
Wet/Dry
Custom tool boxes
Choice for pumping systems. Air cooled vs. Water cooled.
Oil Field Bumpers
Customizable features that match your business needs.
3.  Quality over Quantity
Every company is different. Some aspects of doing business are identical, but what propels one business over the other is the ability to capitalize on opportunities that are not the status quo.  A company that can spec out needs for your company and then build quality trucks that meet your needs is a long-term business relation. This will require a company with expertise within the oilfield industry. Quality built trucks are designed to make your job easier and they last. A tool is an investment and that investment is cheapened if the quality is not there.
4.  Cost Benefits
The long working life of a tool adds value to the price that you pay for that tool. Quality trucks a cost benefit to every oilfield business. The quality features ensure that you can get your work done efficiently. Few things put your behind schedule than mechanical failure of the tool. A well-built truck works harder than you do. Efficiency is a cost benefit to you because they:
Reduce work load through efficiency.
Offer a reduction in exposure.
Are Compliant to industry standards.
5. Business Growth
According to the Texas Commission on Environmental Quality, 2014 is poised to be an exception or extreme drought. This means that water is going to become even more of a commodity then it is already. Being able to transport water from point A to point B is going to be the deciding factor in oilfield contracts and business expansion. Especially if you need to move water from areas where water is not so expensive. A water tank or vacuum Tank truck can help your business to grow in the following ways.
First, you have the advantage over other companies that are bidding on job or projects simply because you have the right tools.
Second, you  have an opportunity to expand your business. Partnering with other companies is pure income. When you are not using your vacuum truck for your own projects rent it and your driver to other companies. If you use your equipment to help other companies they are in effect paying the monthly banknote for your equipment. That can be a cost savings venture for your company.
As 2014 continues, the opportunities to oilfield companies will increase. For those who have the tools that they need will recognize more opportunity.