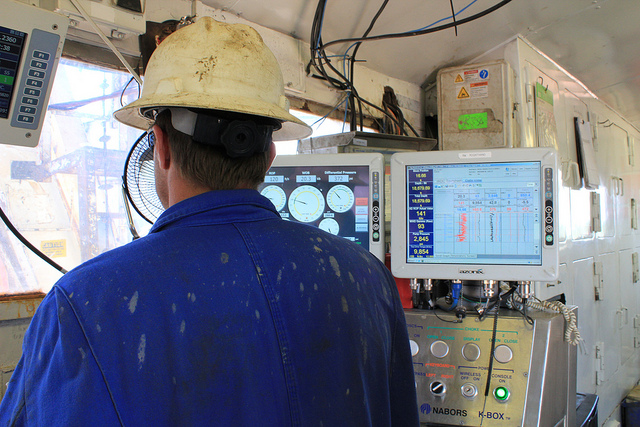 The recent decrease in oil prices has been great for consumers paying for gas at the pump, but it has devastated the oilfields in the Midwestern United States.
Earlier this week, Challenger, Gray and Christmas, the oldest outplacement firm in the United States, reported their prediction for unemployment numbers to skyrocket to their highest numbers in two years during the first month of 2015. They predicted over 50,000 layoffs in the United States, which just under half of them coming as a direct result of crude oil's frightening plunge. Some may point to these layoff as purely seasonal, but the projections are over 40% above energy-related layoffs in January 2014.
Who Are These Layoffs Affecting?
These layoffs are harming a wide variety of companies in this region, from petroleum refineries to manufactures of drills and industrial equipment. Here are some companies that were forced to lay employees off in December, all directly related to the sharp decline in crude:
Halliburton, one of the largest oilfields in the world.
Baker Hughes, another international leader in oil drilling and production.
Schlumberger, the largest manufacturer of oil and gas technology and services in the world.
ConocoPhillips, the world's largest independent energy exploration and production company.
All four of these companies are based out of Houston, TX. As the unemployment rate in Houston and the surrounding areas continue to increase, this could put a major strain on the economy of the entire U.S. energy belt.
Why Has Oil Plunged?
Clearly, the sudden decrease in the price of oil has been catastrophic for the Midwestern oil industry, but it was actually quite predictable. According to the New York Times, it all boils down to a simple economic principle: supply and demand.
For a very long time, the United States was dependant on other countries to supply the bulk of the oil used here. We had some basic oilfields and some offshore rigging, but it wasn't nearly enough to put a dent into our annual usage.
Over the past couple decades, however, the United States began investing significantly into energy, and this included an incredible investment in oil and gas. By 2010, the United States became the world's leading producer of crude oil, a title we still hold to this day.
To make matters worse, demand for oil has dropped significantly throughout the world. This is due to the increased focus on sustainability and energy efficiency. Not only are people purposely using less oil, but they're purchasing cars, HVAC units, and more that require much less of it.
This deadly combination of less demand and more supply made a decrease in oil supply inevitable. Unfortunately, industry and world leaders were either unable to do anything about it, or simply didn't care enough to see the writing on the wall.
What's the Future Hold?
Luckily, oil prices have begun to rebound. Increased global demand for oil, combined with a slightly decreased supply as some major Midwest refineries underwent maintenance. The effect on the sudden spike of layoffs in unknown, however, as prices remain volatile due to the continued glut of supply and still weakened demand.
Many experts do believe that oil is going to rebound slightly in 2015, but it's unlikely that it will grow back to its previous record-high levels. While U.S. oilfields have begun to cut back on production, OPEC oil producing countries currently have no plans to do so, which may hamstring any potential crude rebound over the next year.